August 2022

It's hard to believe that we are preparing for another Festival – our 47th if you don't count the two virtual ones (they turned out beautiful - you can still see them at NJClearwater.org, under "Festival").

This is the information:
47th Annual Festival NJF Clearwater
Saturday, August 6 (11am-7pm) and
Sunday, August 7 (11am-5pm)
at Red Bank's Riverside Gardens Park
42 West Front Street, Red Bank

Please come and bring something to sit on (we have chairs, but there may not be enough).

These have been strange times.

We did make it through the winter - having the Circle on the porch of the Grover House. We didn't send invitations and, instead, just showed up – to sing with whoever also happened to show up – to join us.

All winter, we were fortunate to enjoy warm Circle Sundays. It felt like a strange side effect of Global Warming. But I have to say, I'd feel better if we had 'normal' winters like the ones we've been having, in our earlier lives.

Last year, when I updated my "Lyrics" page, I listed a brand-new song called "Stop the Violence." Someone asked Isis to write it – in anticipation of a rally in June.

That song has taken on a life of its own. Our studio was closed, due to Covid, so Dale and I were working on a "draft" version of the song.

I was busy with some last-minute corrections, when the phone rang. It was Isis, "They killed my grandson."It turns out that Alex made the mistake of opening the door of his parents' house in Irvington, when someone rang the bell after midnight. He was dying when the police found him there. His mother moved to this country from Africa, so that her son would have a better life, in safety. Isis' son Dion adopted him when he married his mother. Alex worked in his parents' beauty shop.

We've been singing the song at large rallies and small gatherings, and we were getting ready to sing it on June 11 – in Asbury Park – at the rally that it had been written for – when we received an e-mail from Sharleen – to sing it with her – at a rally in Princeton.

We declined, but while we were packing the car, we received the news that there was a problem with the city government in Asbury Park. The organizers had to cancel the rally. I immediately e-mailed Sharleen who was delighted to have us. Ten minutes later, we were on our way to Princeton.

May 2021

These have been strange times, but there is hope. Our band, The Clarity Project, has been getting together to practice at the Grover House. We've written a few new songs, and we're so ready to record or let you hear them live.

We also sang at an outside event organized by Musicians on a Mission, and it felt so good. Now we are discussing whether we should try to have an outside Circle of Song at the Grover House, in the not too distant future.

We all miss a few people who haven't survived the Pandemic. The sweet couple who lived across the street from me in Newark died before anyone realized that there was any danger. I will never forget them - they always let me use their parking spot when I visited. She caught the Virus in the factory where she worked. He caught it from her.

Barbara Knight, one of my friends in Asbury Park, died in the rehab place where she was – temporarily, we thought - to overcome a stroke. She was my exercise teacher. I always admired and tried to achieve her great physical condition.

NJ Clearwater lost our most enthusiastic Captain, Shannon Gilvary. It is hard to believe. Shannon refused to buy a car, so that he would remain motivated to ride his bike. I took a photo of him during our first sail together - it is now on our Website, www.NJClearwater.org - under "Environmental Sail Program." Dale suggested that we re-write our song, "Pete's Banjo," in Shannon's honor. I took out the verse about Harris, the dog, and replaced it with the one about Shannon.

But when we sang it to our friends of the Navesink Maritime Association, they demanded that we put Harris back in. I am sure that Shannon would approve. He too loved Harris. You can find this version of the song on my "Lyrics" page – under "Pete's Banjo.".

We hope to launch Pete's Banjo in June. The last time I came to watch the men at the Grover House, they were hosing it down. It is a beautiful boat, built as a collaboration between NJ Friends of Clearwater and the Navesink Maritime Association. Tom Gibson wrote a book about how it was built. Portions of it will be used this year as part of the "Working Waterfront" of Clearwater's Great Hudson River Revival, which will again be a Virtual Festival. Please see my October comments – you can still watch the Virtual Festival video that we produced last year.

October 2020

I believe that NJ Friends of Clearwater's Virtual Festival video is still online. Check our Website https://www.njclearwater.org – click on "Festival" and then click on the pink and baby blue icon. Our producer, Andrea Spinelli, did an unbelievable job in telling our history, using bits and pieces of film material. We hope to do another video, this year.

Thanks to those of you who contributed to us. If you haven't yet, please do consider to do so. I love our great organization, and our message is so needed, these days. Our expenses have kept being high, mostly because of insurance costs – covering a boat that we haven't been able to use and a Festival that we haven't been able to have. But we have hopes for the future, so please do consider to help us keep afloat – there's a Paypal button on our website.

September 2020

It's almost time for our 45th NJ Friends of Clearwater Annual Festival, which will be VIRTUAL, this year.

It was fun to work on this video. It taught me many new skills, and I loved working with that medium.

The video brings back beautiful memories that we've been gathering over the years. I've participated in one of the interviews (Jack and Barbara) and the introductions of our Circle performers, just as we would have done it at a live Festival. I even helped with the filming of some of our performers (Lydia, Jim and Isis).

I also discovered that a video is much easier to deal with than ProTools sound recording (which is important, but hard to keep up with). I recorded about 70 songs – of a backlogs of about 100. Now I have to figure out how to work "YouTube". It's an ongoing project. I will keep you informed .- Please check the "Multimedia" tab for links.

Dale and I began working on videos of some songs, so that they can be put on YouTube. Two of them are up, so far ("Come to the Sea" and "We're Living in Paradise"). Dale used my photographs to make the songs into videos, and she is working on more songs, so please keep checking under "Multimedia."

The unusually quiet spring and summer have been a writer's paradise for me. We've written one new song inspired by the Pandemic (what else?) . But what has been good for me is that I finally found the time to complete my stepfather Herbert's three-Volume World War II Photo Biography.

The German Archives have expressed an interest in Herbert's historic photographs, promising me to store them properly and make them accessible when they are needed. Of course, the photos will make a lot more sense to future generations if they are accompanied by his life story. It IS written now, thanks to the Pandemic.

I have also been going through crates full of papers that I have collected for this project and various other s. It feels so good every time I move another crates to storage.

But I miss our Song Circles and my Yoga classes, and so many other good things.


April 2020

As I am writing this, I am kind-of stuck in my house, held hostage by this terrible virus. Most of the boardwalks and beaches are closed. But I am grateful that I can still take my daily walks in town.

As I was checking my computer, I realized that I had forgotten to post my July 2019 "NEWS" entry. Well, here it is – a little late.

As you know, we had to cancel our Circle of Song. It would have been today, and I miss it. In two hours, I would have called Isis – to pick her up and drive to the Grover House. It would have been two hours of magic, as it always is.

Stuck here in the house, I spent two days making videos. I realized that I had a backlog of 49 songs that weren't recorded in some shape or form. I managed to finish 30. Now I am waiting for my fingers to hurt a little less, so I can do the other 19 – and maybe more – as I am cleaning the house and finding more notes

One bit of news: I have fulfilled one of my childhood dreams – buying a Leica camera. I've been having fun with it at the Jersey Shore Arts Center, photographing the wonderful singer-songwriters who usually perform there – I hope the Café Artiste will be "on" again soon. – It used to be every Tuesday, at 7 pm.

Please stay well, so that we can meet again soon.



July 2019

Another busy year gone by. More than a year.

I haven't performed nearly enough. And I still haven't gotten back to the studio to catch up on all the recordings. Dale and I have been making some videos, using my songs and photographs, and I will post them soon. The last one she sent me turned out perfect – on first try.

My friend Lilo died – Dr. Lieselotte Brandes. Forty-or-so years ago, she was my neighbor in NYC. She helped me get my financial act together – that was her specialty. She had a PhD in Finance. It seemed impossible for me to keep up with my student loans, with only part-time jobs. She showed me how I could do not only that, but also how to save some, so that I could buy a house. She gave me the tools, and I was eager to learn. Everyone should have a mentor like Lilo. I've often thought that every child should have adopted Grandparents – so that much useful information isn't lost. Besides, it is good to have someone to talk to.One day in 2013, Lilo called me and asked me to help her pay a few bills. Of course, I drove to NYC to help her.

To my surprise, the "bills" turned out to be checks.

That's when I realized something wasn't quite right with Lilo.

Her neighbor Kumiko and I saw to it that she received care.

We hired two caregivers – and one of them – Cici – knew much about nutrition and alternative medicine.

Lilo didn't get worse for a long time.

Cici also saw to it that she had fun during the last four years of her life.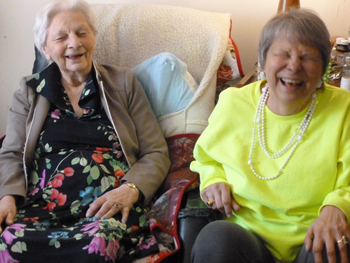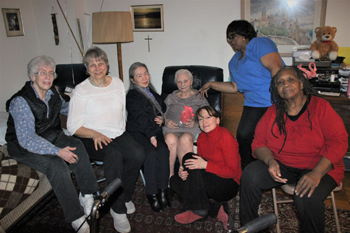 First Photo: Lilo and Ingrid – She never lost her sense of humor.
Second Photo: Lilo and her guests Phyllis, Ingrid, Kumiko, Meli, Cici and Isis on her 92nd birthday
Photos by Elliot Stephen Cohen – All Rights Reserved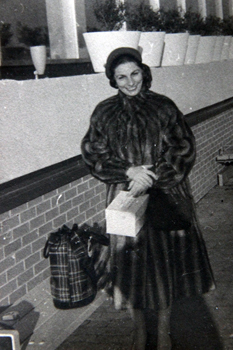 Lilo in younger days. She didn't wear fur when I knew her, but that white prom dress was still in her closet.
I started taking photographs when I was about ten because I wanted to remember things – to write about them later. It became a passion. And it was Lilo and my other NYC friends who would track to my house, down at the Jersey Shore, for every one of my birthdays. We'd have lunch at the ocean and then we'd have fun with my "slide show" of the year – remember slides? It wasn't as much fun when I began using negatives and prints, instead – remember prints? – and the whole thing lost steam all together when I went digital.

After 9-11, I decided to make my first video using my photographs. I went to a wedding photographer with prints of my World Trade Center photos, and he followed my directions while filming these prints.
You can still see it now on this Website under "Multimedia" - "Poetry in Stone."

Dale managed to duplicate the process on the computer, and we also put up the first video there that uses a song and photographs of mine ("Come to the Sea")..

I plan to inform my friends whenever I have new videos. Let me have your e-mail address if you're not on my mailing list yet. I'll send URLs – not bulky video files.

As soon as Lilo's affairs are finalized, I am planning to go back into the studio. I have a backlog of several dozen songs. I hope to make videos for those also. No wonder that there is so little time left for performing.
May 2018

Today it feels like summer, and it seems that I updated this page only a month ago, but it was last fall.

I finally bought a new computer. Now I am dealing with the changes. It's wonderful not to watch circles for hours each day, but it's not so easy to restore all the programs you thought you had. I'm getting there … I think.

Last week, Isis and I handed out information at Ocean Fun Day – organized by NJ Sea Grant Consortium on Sandy Hook. Building 11 on Sandy Hook used to be the home of NJF Clearwater – and we used to have our Festival right there. It is amazing to find out how many people don't know that we've moved – a very long time ago.

I hope that you can come to our meeting – at 12 noon – before our June 3 Circle of Song. We would love to have everyone involved. Protecting our Environment has become so much more important – in recent months
November 2017

We had another beautiful event a month ago.
As a thank-you for volunteering, we were able to board the magnificent 106 foot Hudson River Sloop Clearwater on the Hudson River between the NJ Palisades and the skyscrapers of New York City, in the shadow of the George Washington Bridge.
To quote Ed Dlugosz: "Three hours of beauty, songs, and old and new friends on the craft that Pete Seeger, our founder and mentor, built to save the Hudson from pollution and blight … 45 years of tradition and comraderie … to not only clean the Hudson, but also our states, our country and the world."
Yes, it was all of that. But what excited me most were the young people who were staffing the boat. I am sure that volunteering on the Clearwater has helped making them who they were: Professionals ! I am so proud of them. They give me hope for another generation and more after that to come.
September 2017
Another Festival is in the past. Two days to enjoy lots of music and of friends, some of whom we don't see very often. It is so good to know that they all come out for us, again and again, when they are needed. That they all do their best to make a statement for the environment.

The photographs speak for themselves. Please look for them on the "Circle of Song" page – underneath the PDF programs of all our Circles of Songs.

As usual, our Garvey, Pete's Banjo, was on the scene, as well as representatives of many other environmental organizations.

Isis painted a beautiful earth design for our T-shirts, and I heard that they sold like hotcakes. If you haven't done so already, please make sure you put in your order with Sue at 732-912-0382. The black ones are the most dramatic.
May 2017
We had lots of changes to the location(s) of our CIRCLE OF SONG. After experiencing a few double bookings at the Community Center, we've been offered a permanent home at the Eatontown Library. We tried it out on April 2 and loved it.

In May, we tried out the beautiful Grover House that was built in the 1700s and is located in the middle of a park. We thought we'd be sitting on the porch benches, but the unusually cold weather forced us to go inside, where the house is still under renovation.

Inside, we had a limited amount of chairs. Many more people showed up than the 17 chairs that we had available. There was standing room only.
Still, it was a beautiful experience. We want to thank our friends of the Navesink Maritime Heritage Association for so graciously offering their building to us and even providing us with hot dogs.
January 2017
I have some good news and some very sad news today. The good news is that it seems as if Hudson River Clearwater will be able to have their Festival again, this year. They've begun to sell tickets at www.clearwaterfestival.org.

As for the sad news: We're heartbroken that we are starting the New Year without three of our most faithful Circle participants and Leader-Performers.

In June, I wrote about the loss of James Durst. What I didn't know about him and his wife Madhumita was that they met at the Clearwater Walkabout Chorus – singing. I met and sang with that Chorus once and would have loved to join them, but Westchester County isn't an easy commute from the Jersey Shore. James and Madhumita's story reminded me so much of Pete and Toshi Seeger's who met at a square dance. Their passing within months of each other is still the greatest loss for Clearwater and for the entire world. They're leaving us behind to continue their work, and that won't be an easy task in these strange and troubled times.

It also seems like yesterday that we lost Richard Kaltz, who always delighted our Circles with songs that covered a large spectrum. Not only did he have a beautiful, strong voice, he also knew something about the history of each song he sang, and he introduced us to some strange home-built instruments that were based on those traditionally played by musicians in New Orleans. Richard loved our Circles so much that he participated in our last Festival, even though he had to be brought there in a wheelchair by a dear friend. His voice remained strong as ever. But when he couldn't come to the next monthly Circle, we knew that something was seriously wrong.
And yesterday I drove to Bergen County for the funeral of another friend who was too young to leave us: Carl Croce, Joe Petraitis' musical collaborator and friend. Yes, Carl did tell me that he was the nephew of Jim and that he grew up in a house filled with music. He was also a graduate of the U.S. Merchant Marine Academy in Kings Point, NY, where he received his Bachelors Degree. Before retiring, he was a marine engineer for C.M.C. Consulting in Pine Brook. Joe, Carl and I tried to form a trio, and we did perform together but, again, physical distances prevented us from doing more. But he came to for several of Pete's Holiday sings, where he sang his own songs, as well as harmony with me, on "Silent Night." And he kept participating in many of our Circle activities. He sang holiday songs for our December Circles, and he performed with us at most of our Festivals, as well as The Saint in Asbury Park. His passing was unexpected. We cannot grasp it. Joe said that there will be more memorials for Carl, and I will keep in touch with him about that.
September 2016
Great News: NJ Friend of Clearwater just completed its 41st Annual Festival – and WE BROKE EVEN – for the first time in years.

Some of you – you know who you are – have come through for our beloved organization in a big way, and we had two days of sun – allowing us to do what we needed to do.

THANK YOU, all of you musicians who made for a wonderful program. And thank you, Dale and Isis, for pitching in with everything we needed to make it happen and to Bob Vinick who provided the sound – with very little advance notice.

Four of Pete Seeger's Sloop Singers joined our Circle of Song Stage: Lydia Adams Davis did an incredible performance. I am such a fan. She will also be our monthly Circle Leader-Performer on November 6 in Eatontown. I was delighted to see that Jan Christensen has successfully dealt with his health problems. Two years ago, he had to interrupt his 35-or-so continuous years of continuous attendance. Hillary Zaenchik and Eric Russell, who have scheduling problems in September, were also able to join us – for the last few hours.

Our Festival and our boat are taken care of for another year.

We've already had our first meeting to plan what we can do better – or the same – next year. We hope to start our fundraising activities now – for next year – and we also discussed how to revive our environmental teaching program.

We are open to ideas about that.

PLEASE NOTE THAT there are changes of location for OUR NEXT few CIRCLES OF SONG
August 2016
Another Festival is approaching fast – NJ Friends of Clearwater's 41st. We'll be at Brookdale College again. We loved it there, last year, even though we were dealing with another rainy weekend. You may remember: The year before that, when we were in Long Branch, the rain forced us to continue performing underneath the Shoprite Truck. That was rather uncomfortable. Out tents had blown away long before we got there.

Last year, all we had to do us was get under our tents. They were well protected by the Brookdale buildings. I believe the weather forecast is good but, no matter what it turns out to be: The Festival is "on."
June 2016
Another great Circle with Rob Lincoln. He has written so many beautiful songs. I am looking forward to doing his Songwriters Circle at the Phildadelphia Area Songwriters Association (PASA) next Saturday. Please check under "Performances" for more information. Each of the three featured writers sings half a dozen songs and there is one "open chair" for each round, where audience members can do a song.
Last Wednesday, Dale Lakata, Isis Ra and I we were part of a fun TV/radio taping for a show called Live From Dennis' House. It was dedicated to Simon & Garfunkel. We sang "Sounds of Silence" and one of our collaborations called "I am."
Last weekend was our goodbye to James Durst, a vivid reminder of how many beautiful songs he has written over the years. It involved the Clearwater Walkabout Chorus, a group that I tried to join in the past and couldn't – simply because their rehearsals are too far away from where I live. I didn't realize that James met his wife Madhumita there, at the rehearsals.

My collaboration with Dale and Isis is becoming known as "The Clarity Project." Our next performance will be on June 19, at the Navesink Maritime Fest of the Navesink Heritage Maritime Association. More info is under "Performances."

We also expect to do some songs together at the July 3 Circle of Song and at the rescheduling of Dale's event at Espresso Joe's. It was cancelled because of a fire across the street. I will update the information in the "Performances" page as soon as I know more. We were also asked to return to the Middletown Library sometime in October
April 1, 2016
I am heartbroken. One of our wonderful Circle performers and supporters isn't with us any more.

I cannot recall when I became a fan of James Durst's but it was a very long time ago, in the 1970s. He passed by Chicago, during his many travels, and I instantly fell in love with his wonderful personality and message.

I was so honored when he came to support us, not only at our Festivals, but also at our Circles of Song. He didn't miss an opportunity to support Pete Seeger's work. He and Bob Killian were our bright "stars" at our last Festival.

My thoughts and prayers go out to his wife and singing partner Madhumita who came with him and whose harmonies were so beautiful.

Life is so frail. I am heartbroken.
March 2016
We had wonderful Circles with Lorraine Stone and Cliff Bloodgood. Did you notice: There's a certain magic that happens at our Circles, every time we meet. I am also noticing that some of us have begun to collaborate. That was one of the things I hoped for when we started the Circle.

One of the collaborations is that between Dale Lakata, Isis Ra and myself, as songwriters, and now also as performers. Thank you so much, all of you who ventured out to the Middeltown Public Library to hear us. We had a great time and will definitely keep doing things together.

As a matter of fact, on April 8, I will join Dale again as part of an event at Espresso Joe's in Keyport called Garden State Goddess.
February 2016
I am excited to join Dale Lakata and Isis Ra at the Middeltown Public Library on Thursday, March 10. It's a short event, so, if at all possible, please come early.

We've had a hard time choosing our material because we've co-written so many songs, and we love them all.

I've also been doing some very extensive revising of this Website. Please check under Photos, in particular. I've been meeting many of my folk music idols and many other people who you may be familiar with.

And then there is, of course, Spot, the cat, who demanded to be included, but then fell asleep before I could catch up with him.
January 2016
Another year has begun.

What a memorable event it was to be back in Pastor Sony Augustin's church in Asbury Park. That's where we started our Circle almost six years ago. Joe Petraitis was wonderful. He is beginning to master his accordion. I really admire that.

I was forced, as a child, to play what I call the "A instrument" – for six years. I never managed to play one single song right. Joe has it down. He also brought Carl Croce with him, and they did many Holiday sing-along's and also a Lithuanian Christmas song that had the most beautiful harmonies.

Last Sunday, we welcomed Cliff Bloodgood and his wife who has almost completely recovered from a very serious health condition. I am so in awe of Cliff's mastery of the guitar. I know it isn't easy. But Cliff manages to make it appear that way.

I have spent the last few days updating my Website. Please check the Photos Page, in particular. I've met some of my idols during the past three years and Elliot Stephen Cohen has made a photographic record of that.
November 2015
It's been almost six years since our NJ Friends of Clearwater Circle of Song has begun to meet – in Pastor Sony Augustin's church in Asbury Park. We left that location after more than a year, but we were so impressed with Pastor Sony's work with the homeless, and also with his congregation, that we've kept sending half of our monthly hat pass to him.

Isis and I met with him today, and it was an emotional reunion. Pastor Sony gives a passionate sermon, and the music at his church is wonderful. I remembered that. Some of his performers joined us while we met in his cellar.

I've also known what wonderful work he does with people on a one-to-one basis. Friends of mine attended his church, in particular the author Aaron Powell who then lived in my house. When Aaron became sick, Pastor Sony's Church members came to visit and shop for him. When Aaron died, Pastor Sony filled up a van and came to his Mom's Church in Queens.

This month - this December – we've decided to have another (one) of our Circles back at his Church, the First United Methodist Church of Asbury Park. Don't miss it. Joe Petraitis will accompany us in Holiday Songs and some of his own, like my all-time favorite song of them all: "Where is the Soul." The information is on the Circle of Song page.
October 2015
Time is racing. I haven't updated this page for a while, not because there wasn't any news – it was because too many things were happening.

Our 40th Festival came and went, and we loved our new location at Brookdale College. We had some rain but, unlike in Long Branch, it didn't uproot our tent. We just moved in a bit closer and continued our program.

Our Finale was awesome, ending on a high note with Bob and Fifi Killian doing a moving rendition of his song "There'll Come a Day."

And I loved singing for the Beacon Sloop Club Pumpkin Fest in the newly named Pete and Toshi Seeger Park in Beacon, even though it was snowing and my teeth were clanging because of the cold. Thank you, Nancy Cahill, for inviting me.

At this point, I am dealing with the loss of a prominent member of my hiking group. Barry Miller did everything. He led the friskiest group. I left this group after almost 10 years because I became afraid of falls. I had broken my wrist falling on my own porch. But I still saw Barry because he was the "sweep" of most of the other groups – that's the person who makes sure everyone is keeping up. He hiked almost every day and was in fantastic shape. None of us can grasp that he is not with us any more.

He also sent about 1/3 of my e-mailings for me, which made life difficult for me this month – trying to come up with a list – where to send Barry's photos that I'd taken over the years and where to send our Circle mailing.

I found out during his memorial service that he attended Illinois Institute of Technology for 2 years before earning his PhD in Physics at the U of Chicago. My engineering degree is from Illinois Tech. We could have talked about that, but I had such a hard time keeping up with him that we didn't talk much.


July 2015
It's hard to believe that it is almost time for our 40th Festival.

We've made a decision to move it to Brookdale College – to the park-like area between parking lots 1, 2 and 3.

Sky Solar (who installed the wonderful Solar Panels at my house) is going to be with us again, powering our Circle Stage. We'll be on the lawn, east of Larrison Hall.

After what we went through with the rain and storm last year (including our continued performance underneath the Shoprite truck), it is nice to know that we can go inside the buildings, should it rain again.

I am looking forward to meeting and greeting old friends, as usual, and I've put up a very tentative flier up under "Circle of Song."
May 2015
I can't believe that I haven't updated my News since our last Festival.

I hope soon to announce when and where our next Festival – our 40th – will be.

Today I want to post information on Nepal and how you can contribute to helping the victims.

Last weekend, I sang for a beautiful, large Peace Gathering at a Buddhist Center in Princeton. In view of recent events, it turned into a fundraiser for Nepal.

On Saturday, they will have another gathering which, unfortunately, I can't attend. But I will send a contribution and would like to let others have the info. Any amount is appreciated.

Checks can be made out to:
Nepal Earthquake Relief Fund and sent to:
FONNJ (Friends of Nepal NJ), PO Box 5015. Somerville, NJ 08876

If you'd like to attend Saturday's fundraiser event, please contact:
Nepal Disaster Relief Concert with Krishna Das and Guru Ganesha
Saturday, May 16, 7-11 pm
Nassau Presbyterian Church, 61 Nassau Street, Princeton

SPONSORED BY: Friends of Nepal-NJ, WWW.FONNJ.COM
As of May 14, there are LIMITED SPACES LEFT. For tickets register here:
http://archive.constantcontact.com/fs194/1101870871359/archive/1120965590534.html



September 2014 (part 2)

"Aha - Oh, no – Don't Let the Rain Come Down" – remember that song?

When Isis and I arrived at the Festival site, we looked at the ominous clouds and could hardly find our stage. I knew for sure that there had been a Circle of Song tent the night before. I had visited the site, together with friends from NYC.

When I arrived on Saturday, all that was left of our tent was a heap of white cloth. The wind had huffed and puffed and done what it does, taking down the entire stage. Not a good sign.

The wind remained heavy, but that doesn't discourage our hardy Circle of Song performers – or audience. We started and finished four sets with Isis Ra, Jim Crawford, Sally Neal, Bob Mecklenburger, Rich Deans, Dale Lakata, Rob Lincoln, Spook Handy, Cosby Gibson and Mara Levine. Rod Krasnostein, Judith Bernz and Edy Toussaint also joined in and did at least one number each. Bill Doerge added his excellent accompaniment on bass, and Diane Doolittle on flute.

James Durst and Madhumita were about to do their last song, when it came down hard. I was convinced that, even then, most of our performers and audience members would have held out, but there are expensive instruments and sound equipment that we need to protect. I want to thank everyone who tried to tough it out, even then, especially Mark Lamhut and Chick Romele, our sound people.

I was disappointed. The next round was supposed to include Dennis MC Do No Ugh ! who, at least, had gotten to do one song as Mara's backup, but no one had gotten to hear Cynthia Summers' incredible voice.

Someone suggested that I put the bag with my equipment under the Shoprite truck until I could retrieve my car. Shoprite has been generously supporting our Festival with some of our funds and with a truckload of supplies each year.

When I returned, I noticed that there was quite a gathering under that truck. Dennis wasn't going to let the rain stop him from doing his set. We added chairs, while humming "Under the Shoprite Truck." Even my 92-year-old NYC guest, Mike Taylor, stayed the entire time.

I was sorry that I hadn't asked Circle Round the Sun to join us also. They were the only ones who didn't get to play, but they've been great supporters in the past, and I know they'll be back.
It has to have been the strangest venue for any concert or song circle ever – right then and there, huddled under the truck, Dennis and Cynthia completed their sets.

Joe Petraitis managed to do a few numbers, one of them his beautiful song "Where is the Soul." I love to sing backup for it. Judith and I joined Cynthia on several numbers, including "The Water is Wide." In the background, we heard that The Wag kept the main stage open for those who dared to brave the weather and those who were packing up.

We stayed until the chair rental company needed their furniture back. That's dedication! It was one of those crazy moments in life that we'll never forget. I've posted a few photos under "Circle of Song." More may be coming in.

Please be with us again on October 5, in Eatontown, so you can hear more of Cosby Gibson. She did an outstanding job at the Festival, not only on her set, but also backing up Mara at very short notice.
September 2014 (part 1)

It's Festival time, and our theme is "What Would Pete Do?"

I can't wait and hope the weather will play along. It's been such a wonderful summer. I am looking forward to being with new and old friends, while keeping up Pete's work.

The local press has been very good. Under "Reviews," I have been giving interviews in connection with our Festival and our Song Circle. They have photographs of me and Pete Seeger taken by Elliot Stephen Cohen. Thank Goodness, he had the foresight to photograph us together when it was possible. The recent article on The Link can be viewed at http://thelinknews.net/2014/09/11/clearwater-remembers-the-legendary-pete-seeger/ . I will post the others when I receive PDF files.

I've also put some more links under "Multi Media". I discovered that Chris Krebs of the Belmar Arts Council videotaped me when we had the Circle there. He placed his videos on You Tube.
We've added more images under "Photos" on this Website. There are many more to come. Among the photos already up is one with comic legend "Prof." Irwin Corey. It was taken at his 100th (!) birthday party. When we met him later at his house, I was very impressed by how well he was informed on recent news events. Maybe that's the secret to longevity.

I also had the pleasure of interviewing Mike Taylor, a Holocaust survivor who fought in the French Resistance. He managed to save three of his sisters by placing them in a convent where some heroic Catholic nuns were able to hide them. He also saved hundreds of others by placing them on a ship to Palestine.

His son Shannon has a TV show on MNN (Manhattan Neighborhood Network), and he interviewed me for it. Please check (part 1): https://www.youtube.com/watch?v=ShWk5Ruwi7E and also (part 2): https://www.youtube.com/watch?v=DGVPSGVFj24 on U-Tube.

I didn't realize that I shouldn't wear my favorite green blouse because I'd be in front of a green screen. The engineers forgot to cut away from the NYC background scene to a more neutral one. So now it looks as if I am wearing the Empire State Building which is moving around on my blouse. Oh well ….

But it's a very good interview. We touched on many things, from fracking to my photos of the World Trade Center to my working with Pete Seeger and to my love for NJ Friends of Clearwater, an organization that Pete urged me to join.
August 2014

It's almost time for our annual Festival which will again be in Long Branch, on the northern half of the boardwalk, on Saturday, September13, from 11 am. The overall theme will be Pete and Toshi Seeger and his music.

I manage the Circle of Song Stage, which will be near Rooney's, and I usually go on first – around 11. Please look under "Circle of Song" for a preliminary Circle of Song Stage lineup. Most of us stay around for the Finale on the Main Stage at about 6 pm – a long day of fun and friendship as well as concern for our environment.

My life has been incredibly busy.
July 2014

I can hardly keep up with all the events. Please look under "Live Photos" for some of the things that have been happening around here.

First I wish to thank Lydia Adams Davis for our fantastic June Circle of Song. She is such a pro ! I have since listened to her children's CDs, and they are excellent. She does a great job of combining an environmental message with having fun.

I've been part of several Pete Seeger memorial concerts and attended many concerts as well as the Songwriters Hall of Fame dinner and the Clearwater Revival Festival. All the while, I've been trying to find time to computerize and archive some of my photographs, recordings and writings.

Brian Ostering of The Wag started organizing benefit concerts for our next NJF Clearwater Festival, and I've been part of that too.

In my spare time, I've tried to memorize Pete's songs. I tried to tell him that I have a hard time memorizing lyrics – any lyrics. He replied, "Stay with it. – You're not too old to learn."

I hear from Spook Handy that he is now learning how to play the banjo. He asked Pete what line he should use, instead of "…hand the old [banjo] to someone younger," in the song Quite Early Morning. Pete replied, "You're not too old to learn the banjo." Who could argue with him?
April 2014
Where do I start?
Among other things, I've been trying to attend all of Spook Handy's "Remembering Pete Seeger" concerts. He is doing a wonderful job of getting Pete's songs out there, and I've been proud to join him for his Finales.

It was through Spook that I met Pete – his song "Vote" was sent to Pete by another friend, Sharleen Leahey, and the rest is history.

I vividly recall Spook singing "If I Had a Hammer" with Pete and Peter Yarrow during a Hiroshima Memorial at the Riverside Church in New York City.

You could tell that the song evolved with each performer. Pete sang the Weavers' version. Peter Yarrow obviously did the one sung by Peter, Paul and Mary, while Spook must have learned the song from the Trini Lopez recording. But somehow it all came together.

Our Circle of Song with Bob Mecklenburger will be in Belmar - this time only – please make a note.
And I will also be singing at a Poetry event in Ocean Grove on Sunday, April 27th (see "Performances").
Spook Handy and Pete Seeger sharing a happy moment, while performing together.
Photo by Ingrid Heldt

March 2014
I am looking forward to having our Circle of Song at the Eatontown Community Center in April. In May, we'll switch to the Belmar Arts Council for that one month only. I love that building also and you may want to check out the many interesting activities that are happening there.

Yesterday, I attended a wonderful concert: Tony Trischka was at Mexicali Live in Teaneck. I'd seen him several times in the past, when he was performing with Pete Seeger. I am not usually a huge fan of bluegrass or banjo music, but he and his band truly made both fun for me and the audience obviously loved them too. It was well worth traveling the long distance in the rain.

Please mark your calendars: The date for our next NJ Friends of Clearwater Annual Festival (our 39th) is planned to be September 13-14. We are hoping to go back to two days. Did I mention that I have become the Vice President of NJ Friends of Clearwater? We'll do our best to keep up Pete's work, both musically and with respect to the Environment.
February 2014
We've had a great start to our Circle meetings at the Eatontown Community Center – about 60 people. The sound is fantastic – it's a former church.

We've had one more major change to our Circle – for March. Please mark your calendar:
Belmar is having its St. Patrick's Day Parade on the day when we planned to be at the Belmar Arts Council because the Community Center has a conflict. They're expecting record crowds and much of the town will be roped off.

We've had to move our Circle to Saturday – just for March. It won't be in Belmar. It will remain in Eatontown. Please mark your calendar.

I want to thank Sharleen for hanging in with us through all these crazy changes. If you were among the crowd last time, you've heard her do Pete Seeger sing-along songs that she prepared for us. I've sung backup on some of her recordings. Prepare for some nice harmonies.
January 2014 – part 5

I decided to post my favorite photo of Pete and Toshi on my Website. I took it after one of our Beacon Festivals.

Now they're back together.

January 2014 – part 4

Just as I completed most of my monthly e-mailing, wherein I informed everyone of the new time and location of our Circle of Song, I heard the sad news that Pete Seeger didn't survive his recent struggle with congestive heart failure


Pete and Toshi now they are together again
Photo:

Ingrid Heldt
Last week, I spoke with Dave Bernz who has been producing Pete's last few CDs. He said that just about everyone he meets has a story of how Pete helped his or her life.
I added mine: I used to be so nervous, as a performer, that I'd become physically ill before each major performance that I was scheduled to do. It forced me to give up my dream of becoming a professional singer.I don't know how I mustered up the courage to sing for Pete, but he had a way of making you forget that you were "performing." He made you concentrate on making the audience participate. He made my dream possible.
January 2014 – part 3
"VICTIMS OF YOUR OWN SUCCESS" – that's how Mike, the owner of the Turnstile Coffee Bar put it when he sadly told me last month to look for another location.

I perfectly understand. We love his place, but it has become very popular on weekends with his regular clientele. When we arrived last Sunday, he had already two dozen or so people there. We brought in another three dozen, which was impossible to handle. The place was crowded and parking turned into a nightmare.

We've been offered a number of places in the past and decided to make our permanent home at the Eatontown Community Center, where NJF of Clearwater has been conducting business and party meetings in the past. It's a former church at 72 Broad Street, which is north of Route 36, parallel to it. The directions are posted under "Circle of Song.

Thank you, Ed Dlugosz, President of NJ Friends of Clearwater, for stepping in and booking this beautiful space for us. This will become our permanent home.
January 2014 – part 2
We found a new venue.

Please check for the new address and directions under "Circle of Song" or under "Performances."

We're also changing our starting time to 2 pm. At one of our last meetings, the consensus was that most of us preferred a later starting time.

This can now be done because we're not locked into the opening times of the Coffee Bar any more.
January 2014
This is just a short note – please look for updates:

We have outgrown our beautiful venue, the Turnstile Coffee Bar. To quote Mike, the owner, we've become a victim of our own success.

His place is suited for about a dozen extra people – we've brought in close to forty each month – much more than he can handle. I will be keeping you updated here and under "Circle of Song."
November 2013
I'm still busy updating this Website. Please look for more changes, especially the exciting new "Live Photos," most of them taken by Elliot Stephen Cohen.

I have so much to report. First, I'd like to thank James Durst for doing an impromptu second set on the Circle of Song Stage at our NJF Clearwater Festival, when someone had to cancel. I was particularly happy about that because it gave me the pleasure of getting to hear him and his wife who has a beautiful voice too. I've been a fan of his since the 1970s.

I am also a huge fan of his band, Work 'O the Weavers, and last weekend, we traveled to Beacon, NY, where they played to a sold-out crowd at a wonderful venue called the Town Crier, which recently moved there. Pete Seeger helped them out, and so did Tom Chapin. Ronnie Gilbert participated by telephone.

Here is the link to an article that Elliot Stephen Cohen wrote about it in The Examiner: "Ronnie Gilbert"
As you can see from my "Live Photo" page, I've been busy meeting a lot of interesting people, like Dave Davies of The Kinks, Denny Laine of Wings, James Burdon of The Animals, Bill Medley of The Righteous Brothers, David Amram, Mike Love and Bruce Johnston of The Beach Boys, Tommy James, Thuli Dumakide of Thuykuza, a wonderful band combining African and American talent (check them out at the Baruch Performing Arts Center), and Darlene Love, who is an inspiration at 72 – she looks and acts more like a teenager – I think having music in one's life does that.

Our Song Circle is going strong. We'll be changing the starting time from January – an hour earlier will be more convenient for our generous hosts at the Turnstile Coffee Bar. They Won't have to stay open any more past their usual closing time.

October 2013
I've been doing a lot of updating of this Website in the past few weeks. Please look for the changes. They should be "up" within the next few weeks, especially the exciting new "Live Photos" taken by Elliot Stephen Cohen.

I've also – finally – finished two CDs that used to be Mini CDs (Visualize Peace ! – Hope Road). Somehow I hadn't gotten around to completing them. I also finished another CD (Beautiful Planet) that's new and that reflects my work with NJ Friends of Clearwater.

Our 38th NJ Friends of Clearwater Festival went very well and broke even again, even though we didn't charge for admissions. Moving to Long Branch brought us many new people who walked in from the boardwalk and who wouldn't have heard about us, otherwise.

PLEASE STAY TUNED...
September 2013
I can't believe that it's almost time for our NJ Friends of Clearwater 38th Annual Festival (September 15 – Long Branch – see "Performances").

I've been recording – finishing up three CDs that I promised a number of years ago. Nothing makes time fly faster than recording.
And I've been performing. The Corn Fest in Beacon was the highlight of my summer season, and a reporter from The Examiner-dot-com, took a number of beautiful photographs there that I intend to share here soon.

I've met, among others, Mike Love and Bruce Johnston, two of the Beach Boys, and Rock & Roll Hall of Famer Darlene Love, who has lost none of her fantastic voice or looks and who has sung with people like Elvis, Dionne Warwick, Tom Jones, Sonny and Cher and her own band, The Blossoms.

As soon as I finish the artwork for the three coming CDs, I'll be updating this Website and sharing some of the above.
May 2013
Again, I want to thank you for coming to our last month's benefit at Molly Maguires and to our regular Circle of Song. The Turnstile ran out of chairs – that's a wonderful problem for performers to have.

Our next Circle of Song will be on Sunday, June 2, 1:30 pm, at the beautiful Turnstile Coffee Bar. We'll be joined by James Durst, a legend in the world of Folk Music. I'm so excited that he asked to be our featured performer. I've been a fan of his since the '70s. Among other things, he founded Work of the Weavers. They don't only perform the songs of the Weavers and of Pete Seeger - they also tell the story. Pete himself joined them for their first few performances. When I asked James how he manages to sound so much like young Pete, he said he's been a fan of Pete's all of his life.

On Saturday, June 8, we'll have another Fundraiser for our Festival, this time at Unity by the Shore, 3508 Asbury Avenue, Neptune, NJ. At 2 pm, our Traveling Environmental Festival (TEF) team will teach how to keep our Environment clean. After that, at about 3 pm, Dale Lakata, Isis and I will start the music.

By now you've probably heard about the change in plans for our 38th NJ Friends of Clearwater Festival. It will be held on Sunday, September 15, 2013 – not in August – and it will move from Asbury Park to the North End Park at the boardwalk in Long Branch, north of the former Hilton Hotel and south of Rooney's. The Circle of Song Stage will be near Rooney's.

I've also been singing, teaching and timekeeping for our TEF program. Like Clearwater, our much admired parent organization, we teach respect for our Environment, but our boat, the Adam Hyler, is kind-of small – it can't accommodate our teaching program. Instead, we go out to local schools – or to the Unity Church, on June 8.
April 2013
It's been another very busy series of months.

Besides dealing with some very challenging computer tasks, I've been opening for Tommy and Abby Anton and singing backup for Sharleen Leahey and Dale Lakata.

I'm also looking forward to singing at the Corn Festival in Beacon, NY, on August 11. I'm not sure about my time slot, but I've been on as early as 12 Noon in the past, and Pete Seeger is usually on at 2 PM. Please come early. I will be posting more information soon under "Performances."

I've also been singing at several African History Celebrations, one thanks to my friend Isis Ra, another thanks to Dale Lakata. Isis, Dale and I recently collaborated on our first song. At this time, we're doing some recording.

NJ Friends of Clearwater is having another fundraising event, this one on April 28, at a beautiful historic pub in Rumson. Please check under "Performances" for more information.

January 2013
As you can see from my December Performance list, I've "been around" more than usual. I am glad that things are a little calmer now. I have a lot of catching up to do.

Today I took a walk in Asbury Park, so that I can report on its boardwalk. They've promised that it will "be back" before next summer. As far as I could see, they're making great progress. All the underpinnings appear to be in place and some sections seem to be complete. It struck me that one of the things that survived without damage is the base of a portion of the Casino that was torn down a few years ago. People then didn't skimp on materials as they do now.

The northern portion of the boardwalk in Ocean Grove survived with minor damage and has been repaired. That's because the dunes held up. They were planted well, which kept them in place, saving my house also. The southern end, where all the flooding was, doesn't look so good. I don't think that the fishing will be back by the summer either.
Other towns have suffered much more. I tried to take a trip down Route 35. In Mantelokin, there are still armed guards keeping everyone out. I hear that 90% of that town is damaged. Before 1992, I used to love sitting on the benches on their generous dunes, reading a book. In 1992, they were damaged by a nor-easter and not completely rebuilt – a terrible mistake.
One of the towns with little damage along the ocean is Bradley Beach. They used interlocking bricks for their boardwalk, claiming that this was historically correct – there had been bricks before. I recall that a storm underwashed some of them soon after. A concrete barrier was added. I sneaked in the day after Sandy, sure that the bricks would be in the ocean. I was amazed that the entire boardwalk was not only intact, but also cleaned up. The police chased me away, but everything was definitely ready for use. In 1992, they used a strange technique of depositing Christmas trees on their beach, hoping it would add to their dunes. They were proven right. The only major damage was in Tommy and Abby Anton's neighborhood, where a lake overflowed – something completely unexpected.

I strongly feel that we need to invite dyke experts from Holland. In 1964, Northern Germany lost 600 lives due to a horrible flood. The Dutch experts were called in to rebuild every dyke. The storms and floods have kept coming, but I haven't heard of anyone drowning since. The only fatalities have been from falling trees.

That's another matter. I visited Joe Petraitis in Randolph, surprised to see a tree smashed into a car in his driveway. He used to have a small forest in his back yard. Most of that is now firewood. I often go hiking, and it's amazing to see how many trees we've lost. We need them, so we can breathe.
November 2012
Many things have happened around here. We've had to cancel last month's Circle of Song with Sharleen Leahey because of Hurricane Sandy.

Sandy has caused major destruction. Life has felt unreal since. While the block where I live was almost undamaged – a few blocks from here is major destruction.

Among our friends who have had major problems are Tommy and Abby Anton, who have always supported us in the past. Their home in Bradley Beach has been flooded. They said they found live fish in their car and in their basement. They are now ripping out all the contaminated sheetrock and insulation to make their home habitable again. I hope that we'll be able to do a benefit for them. If you wish to get in touch with them or if you can help, this is the Website they've set up: www.helpabbyandtommy.com
Another person who has been having unexpected housing problems is Carl Croce. It forced him to cancel his participation in our December Circle. However, Joe Petraitis, who would have been there with him, has graciously offered to be our featured Leader-Performer. Joe and I used to sing together often, and we love to do duets like "Where is the Soul," my favorite song of all – he wrote it.

The Turnstile Coffee Bar hasn't been damaged, but I am sure they've suffered because they had to close down because of the power outage. Please give them your business whenever you can.

As for NJ Friends of Clearwater: We've lost many Festival materials that were stored in a garage. But everyone is alive and well, and we will recover from this.
August 2012
I have a number of things to discuss today.

First Item: DO NOT FORGET TO COME TO OUR 37th ANNUAL FESTIVAL on AUGUST 11 in Sunset Park, Asbury Park.

It starts off on the Main Stage at 11 am, with the Allen Chapel AME Youth Choir and Praise Group. I've had some weekends off and have been able to spend some time at this Church. I admire their positive, joyful outlook and their music program that is nothing short of awesome.

I will start the Circle of Song Stage at 11 am. If you miss it because you went to hear the choir: I am planning to continue running the stage, while singing backup for a number of my friends. At 6 pm, we will all change over to the Main Stage, where we'll do the FESTIVAL FINALE. We are planning to revive a song by our founder, Bob Killian, and another that I've heard Helyn Chobocinski sing who used to organize our stages.
Next Item: Thank you – you who have come through for NJ Friends of Clearwater in such a big way. Not only did we collect most of the money we needed for this year's Festival, but Quincy Mumford, who wasn't able to make it there, suggested that we should also have a Fundraiser at Chico's Jazz Club in Asbury Park. That turned into a great success last Sunday.

It was exciting for me to get to hear some of the people whose names I've seen on our Festival program, but who are on other stages, while I am on the Circle of Song Stage. People like O'Neill & Martin, The Wag, Poppa John "Bug" and Quincy Mumford. The variety of their styles, the quality of their musicianship and the enthusiasm they brought to their music and to our cause was so refreshing.
Besides, Chico's is a neat place. I was fortunate to get to talk with the owner who isn't only an icon in the jazz world. He is also a firm believer in our organization and what we stand for. It's reassuring to know how many friends we have who aren't necessarily members of our organization. He suggested to get more young folks involved, and I told him about our TEF (Traveling Environmental Festival), a teaching program which, unfortunately, is presently on hold because our past leaders are dealing with serious health problems.

My first experience with something similar was on "our" mother ship, the Clearwater. Someone smuggled me in as "Danny Einbender's girl friend," much to Danny's surprise, so that I could sing for a group of special kids and an unidentified "Special Guest."

That day, the teaching program was done in the usual manner: The kids were broken up into eight groups, who were guided from teaching station to teaching station on the ship.

I recall a net being cast into the water which, when it came back filled with fish, was emptied into an aquarium until we had a chance to identify them, with the help of a booklet, and put them back in the water. I also recall reading maps, discussing rivers in general ("Who owns the River? – We do"), learning how to navigate a rather large sailing ship and also that it isn't okay for Bonnie Finkenaur and me to giggle while we steer the boat into oblivion.

I also recall the strict security that day because of the "Special Guest," who turned out to be Hillary Clinton. We had every intention of sticking to the protocol until one of the kids grabbed an eel from the aquarium and stuck it in the direction of Hillary's face. At that point, all security went by the wayside. Everyone, including Hillary, broke into squeals of laughter and the rest was fun.

I also remember a lesson I took home with me that day, one I was able to apply the very next morning: Danny told us that styrofoam cups are disastrous for the environment because they simply don't bio-degrade and that, if we can do nothing more at the time, we should at least buy our coffee in shops that use paper cups or maybe – maybe – bring our own mugs.

Back to New Jersey Friends of Clearwater: We have a boat too, the Adam Hyler, except, it's a "garvey," which means that it's too small to have groups on it. Besides, it's currently out of commission. I hear that it's being rebuilt by a group of dedicated young volunteers and that it – or something much like it – should be back in the water by the time of our 38th Festival. But as I said, it's not large enough to house teaching events. That's why we used to go directly to the schools to teach.

I've participated in those TEF teaching events too. I sang for the kids and helped with the teaching stations. I recall microscopes to teach about phyto- and zoo-plankton, the tiny creatures that small fish feast on, so that larger fish, in turn, can feast on them. If the little ones aren't healthy, there won't be any big ones, just as it happened with the Hudson River before Pete Seeger decided to build the Clearwater and use it to educate people. He's now involved in building swimming pools for the river because the water is clean enough to do so. He's living proof of how much one person can do – with a little help from friends.

Another station I vividly recall is the watershed model, which is rather large to transport – too large for my Toyota. We used oregano to represent the candy wrappers that we might throw away in the streets and colored oil to represent what might be dripping from our cars. The fun began when we all got spray bottles and created our own rain storm. After that, we watched how everything ended up in the ocean of our watershed model – not good.

I asked Chico to be on the lookout for retired teachers or possibly people with flexible schedules and maybe access to a van. We could use their help, so that this great program can be revived. He offered to have an event for children at his place. That should be a good start.

Please let us know if you're able and interested in volunteering for this program. We've educated over 25,000 students and our voices shouldn't be silent at this time.
May 2012
Let me print here the E-mail I just sent out to my mailing list.
The contents are so important.

Re: NJ Friends of Clearwater - URGENT APPEAL FOR FUNDS

Please feel free to forward this E-mail to as many of your friends as you can think of.

I mentioned in my last mailing that NJ Friends of Clearwater will make an urgent Appeal for Funds
and that I will be sending an E-mail about it.

Our PayPal button is now working. I've just tried it and sent my own membership contribution that way. It works - and it's sooo cool. Thank you, Ed Dlugosz for getting this to work.

You'll find it on the opening page of our Website, www.njclearwater.org .

While contributing, you can explain to us what your money is for by clicking on the tab labeled "Add special instructions to the seller".

There's also a snail mail address on our front page. If you prefer to send us a check, you may use that address.

Any amounts that you can spare is will help us greatly. The painful truth is: Some of our wonderful donors have had to cut back this year. We need to make up for the difference. If we can't raise enough funds now, we won't be able to have our 37th Annual Festival on August 11 in Asbury Park, and that would be terrible.

For several years, we haven't charged an admission. That way, we've been able to attract many more people. Isis and I will make an effort in the next few weeks to get us advertised in all churches, libraries and businesses in Asbury Park and Ocean Grove.

But putting on a Festival is expensive, and it won't happen without your contributions.

Ingrid
Thank you, Sharleen Leahey. I just received your E-mail informing me that you contributed $50 in honor of your friend – our friend – Carol Sciacca who was the videographer at our last few NJ Friends of Clearwater Festival Circles of Song. In her quiet way, Carol always did so much for all of us. I am so glad that I dropped by her hospital room, but didn't expect never to see her again. Life is so fragile.
February 2012
This is nice: Patricia Florio, a local writer, has come to our Circle of Song in January (and also in February) and written a wonderful article about it. It can be accessed at http://stripedpot.com/2012/02/09/even-in-winter-theres-always-something-to-do-at-the-jersey-shore/ .
Maybe there is hope. Kathy Moser makes me think about so much that may be possible when she did her outrageously funny song about Shopping Malls at our February Circle.

Years ago, when I first heard her do that song, it seemed to be just some crazy idea: "If we took down the malls, all the people would have a lot more time, I'd have some peace of mind. There'd be so much more open space – Hey, isn't that what we came here for, in the first place." Crazy idea, yes. Yet, for whatever reasons: Fewer shopping malls are being built today, and some are actually reverted to wildlife. "Seaview Square Bird Sanctuary" ... What a thought!

Pete Seeger sometimes quotes Jesus about putting out Seeds. Pete has certainly put out a huge amount of them, and some have come to fruition. Others may yet see their day. Maybe the most important thing is the word – mentioning our wishes to others and then let the universe suggest solutions. I think that's what Pete means when he talks about Seeds.

It reminds me of my Dad, Carl Friedrich Lühmann. He yelled something across the street that got him in trouble with the powers that were in Germany, early in 1945. It certainly seemed more than impossible at the time. The government wanted War, and they didn't mind spreading lies and rumors to get what they wanted – or to eliminate the people who might have stood in their way.

Dad yelled "Bald haben wir endlich Frieden." It may seem like a useless thing to say, considering the circumstances. But another peace lover may have heard it and found the courage to hope – maybe even to help. Besides, he was to remain right: I was fortunate to grow up in one of those seemingly impossible times of Peace.
I am also thinking of my days as a Civil Engineer, on the renovation project of the Coney Island Sewage Treatment Plant. When I took the job, I was excited to help cleaning the air in Sheepshead Bay, a beautiful part of Brooklyn that used to smell like a sewer. My joy was disturbed when I discovered what was done with the toxic sludge, one of the side products of such a plant. It was put it on barges and dumped into the ocean.

The plans for the future were even more disturbing: An underground pipe system was to combine the sludge from three sewage plants, to be put on bigger barges and dumped into the ocean – further out.
I felt like the lone voice in the wilderness when I kept harping at just about every meeting that the Europeans clean their sludge and use it as fertilizer. The reply was always the same, "It's cheaper to make chemical fertilizers." I became frustrated, quit my job as an engineer and opted for an easy computer job with a law firm.

More than twenty years later, at one of our combined Sierra Club/NJ Clearwater events, I met a sanitation engineer of the NYC Department of Sanitation. He told me that it's happening: New York City's sludge is now shipped to fertilizer companies. He also said that the expensive pipe system never worked.

There's much to be learned from Europe: When you have so little space and so many people, you simply can't get away with shortcuts. Most people may not realize how much bigger the US is than Europe – the maps are usually printed in different scales.

That reminds me of my first bus trip from New York City to Chicago. After about nine hours, I started to worry that I might not have gotten off in time and to fear that I might end up in California. I asked the driver, who smilingly informed me that we'd soon be leaving New York. Seven-or-so hours can take a person straight across Europe.

Talking about crowding: Germany has one fourth of the population of the US – all in half the size of Texas. Holland, where I used to live for a while in the 1960s, has twice more people per square mile. I did feel crowded there and dealt with it by joining friends on sailboats as often as possible.

I am always surprised to find that Germany doesn't feel as crowded as it is. People realize that they have to be considerate. I am proudly following the progress of Alternative Energy over there and hope for much more of an exchange of technology. We don't have to keep re-inventing wheels that are already working somewhere else.

So much for my soap-box speeches today. Please come to hear Spook Handy next month – on March 15 – at our Circle in the beautiful Turnstile Coffee Bar. He's been one of the proverbial voices in the wilderness during all the years that I've known him. When he wrote his song "Vote", Sharleen Leahey decided that Pete Seeger might like it. She sent it to him. Last month, when I performed with him in Highland Park, I asked how he found out that Pete loves the song. He blushed, "I am from a younger generation – I didn't know who Pete Seeger was when I got the letter." Since then, he's performed with Pete more times than even he can count.

I made sure to go when Spook and Pete sang "Vote" together at one of the Beacon Festivals, about seven years ago. At the time, Clearwater had lost my membership twice, and I marched to the Clearwater booth to voice my bitter complaint. To my surprise, I found Pete there, by himself, explaining that everyone had gone out to lunch, but I could help him staff the booth. The rest is history. I've been trecking to the Hudson Valley at least once a month, so I can learn from the best.

Spook, as I said, has become a performer who is called all the time to sing and play with Pete. One event will always stand out in my mind: I heard Spook, Pete Seeger and Peter Yarrow of Peter, Paul & Mary do "If I had a Hammer" – together – at Riverside Church in New York – a historic event. Each one knew a different version, but somehow they managed to pull it together.

We are so lucky that Spook will share his valuable time with us, the friends of NJ Friends of Clearwater.
Ingrid
January 2012

Another month – they keep coming. Our Circle of Song is doing very well. Joe Petraitis brought Carl Croce, and we had a record turnout. Our move to the Turnstile Coffee Bar in Belmar turned out to be so good for everyone involved. We love the location, and they seem to enjoy having us there. I hope that many people will discover it's a cheerful and beautiful place to go and spend some time.

Joe and I also stopped at the Folk Project in Morristown on Friday, January 13. We received a beautiful video. I will let everyone know as soon as I figure out how to put it on U-Tube.

Isis had to move to another apartment, but it's one owned by her previous landlord. A tenant below her caused a fire. She didn't lose everything, this time around. But it's almost ironic: Since she was completely burned out a few years ago, she and Helen McCahill have raised $38,000 and begun to renovate a dilapidated building, the Allen House, as a place where people can stay temporarily, after a fire.

It reminds me of the fire we've had here in 2010. The Red Cross provided everyone with a fancy hotel room for two days. We all agreed: We would have rather had a less-than-fancy room for a week - or two - or three. I spent a few nights at one of our neighbors' houses. He was grateful that my Solar Panels kept the fire from spreading to his place.

I personally had been very lucky: My living space had only light smoke damage. I then discovered was that it was much easier to find a place to take in people than a place for people with their pets. We ended up sneaking a turtle and four of five cats past the police lines. One cat had stayed behind, hidden in the house – which freaked me out during the fire. I moved back to join the pets in the half-burned house, without heat or hot water. I did have electricity to run a space heater, but I don't miss those icy showers.

Last week, Clearwater and the Sierra Club had the third of their joint meetings. I spoke at the first one of them – about my Solar Panels. I stressed in my speech that it isn't true that they won't break even. They do, even without government subsidies. But it's only fair that we do get some government support because so many of the polluters are subsidized in so many ways. Yesterday, I became very excited when I noticed a parking lot on Lake Street, off Road 35, in Asbury Park: It's been roofed and covered with Solar Panels. What a perfect thing to do with a parking lot ! The panels protect the asphalt and the cars, and they are sooo beautiful.
Ingrid
December 2011

I just returned from Europe, where I did the songs for Mom's Memorial Service. Pastor Fettback didn't receive the e-mail with my information on Mom – so he decided to try something new: He did it interview-style. Everyone liked it. He said he may do more services like that.

While I was over there, cleaning out Mom's apartment, I heard the news that another beautiful person died – someone who looked as if he'd be around forever – Fred Sebastian. Fred was the person who organized a Peace Concert at the Ethical Society in Maplewood for Spook Handy, Gigi Goldstein, Joel Horowitz and myself. He had agreed to become my manager, and I promised to get back to him as soon as the fire damage in my house was straightened out, which would have been now.

If you're wondering who he was: He attended every Peace event and our annual NJ Friends of Clearwater Festivals with a table of books about Peace. He also took time with most people he met, explaining to them why Peace is the better way. I can't believe that I can't pick up the phone and call him. Neither could the large crowd at the Ethical Society.

Fred had also been the person who urged me to tape Gigi Goldstein in the Morristown Hospital before it might have been too late. She had written about 600 beautiful songs, none of which were recorded. I recorded 25 of them on a cassette recorder. Does anyone know of a studio or a simple computer program that can clean up cassette tapes? I hope to issue a CD of these recordings soon, and it would be great to improve the sound quality.

As for our Circle of Song: Our new location at the Turnstile Coffee Bar in Belmar was a big success. We at least quadrupled our audience and made more money than ever – for Pastor Sony and NJ Friends of Clearwater.

I can't wait for our next round with Lorraine Stone on December 15. By the way, she will be in "Black Nativity" again on December 30 in Redbank's Count Basie Theater. As usual, I reserved my ticket. Lorraine is a fantastic actress, dancer, writer and story teller. I've been following her career for 16 years – ever since I first saw her as the narrator in "Black Nativity". Lorraine isn't a singer, but Isis tells me that she prepared a song and a few stories for us.

Oh yes, this Friday will be Pete Seeger's Annual Holiday Sing. I will again do my favorite Christmas song by Garth Brooks. Yes, the man who wrote "I've got friends in Low Places" wrote a Christmas-Peace song about a true event that's more beautiful than any other Christmas song I know.
Ingrid
November 2011

I have big news about our Circle: We have a new home. The owners of the Turnstile Coffee Bar in Belmar contacted us to offer us their side room. I went there and absolutely loved the place. They roast their coffee beans right on the premises. It smells wonderful. I am particularly fond of the well-lit parking lot that we'll be able to see while we meet, the handicap access and the fact that it's very easy to find, no matter from where you come.

This month, I am so pleased to welcome Arlon Bennett, who is traveling 150 miles to support our cause. Arlon and I have run across each others' paths for many years. I remember when he first sang his song "Be the Change" for Pete Seeger. Pete turned to me and whispered, "Did you bring me this man?" And you may have heard him do that same song on the Main Stage at our NJFC Festival last August. He has performed with an array of famous musicians and was selected by Noel "Paul" Stookey of Peter, Paul and Mary to perform in his Music2Life showcase. Please come and support him – while he is supporting us.

Next month, we'll be doing something entirely different: Lorraine Stone joined in, as a dancer, when our co-organizer Isis Ra performed at NJ Friends of Clearwater's Annual Festival in 2010. You can see her on one of the photographs of that Festival on the Circle page. I've been following Lorraine around ever since I saw her in "Black Nativity" by the Dunbar Theater Company. She is an incredible actress, writer and story teller, and I am sure she will have some material appropriate for the Holiday Season.

I'll be going to Europe for the rest of November, but will return just in time to participate in Pete Seeger's Annual Holiday Sing. Last year, Carl Croce joined me on my rendition of a Garth Brooks Christmas song. I can't wait.
Ingrid
September 2011
What a Festival on August 21. Not only did we manage to squeeze it in between the storm systems, we had an unusually beautiful day. I want to thank everyone who made it happen. Each of the Circle of Song Stage performers did wonderful – I want to repeat my thanks for everyone and also for Mara Levine who joined in. Mark Lamhut did our outstanding sound again, and Sky Solar provided the electricity. It couldn't have been better.

I also want to thank the committee that awarded me The Leland A. Cook Award. That was quite a surprise.

In the past few months, I've been in touch with a very special person: It took years for me to come up with a song about the Berlin Air Lift. If you haven't heard of it: It was an unselfish act started by General Lucious Clay in 1948. The West Berliners would have starved after the Soviets closed the roads from West Germany to West Berlin, and General Clay decided to feed all four million of them by air. In the past, I had run into Norman Ward, one of the British pilots, in Berlin. As a matter of fact, we decided to tour Berchtesgaden, Munich and Nuremberg together. He told me that planes would be landing every twenty minutes, and that they'd be ready to return to Celle (a town near my home) in exactly one hour.

In the song, I mention another pilot, the American Gail (Hal) Halvorsen. He was the first to drop parachutes with candy for the Berlin children. I discovered that he is now 92 years old and sent him the song. Since then, we've been e-mailing and phoning, trying to come up with an opportunity to meet. I hope, we will be able to do so in November, in Germany. I feel so strongly that the German people have remained strong allies to the U.S. because of this event. The War could not have erased the programming these children received in the Hitler Youth – the Berlin Air Lift convinced them otherwise.
Ingrid
July 2011
I've done another shuttle to Europe which included a performance with Lea Lewalter at the nursing home where Mom is now.

I've also sung backup on three of the songs on Sharleen Leahey's coming CD – please look for it.

There has been another mishap around my house: Last week, lightning struck a few blocks away and destroyed much of the electronics around here. It's amazing how many things we can design that work well until Mother Nature decides otherwise. Frank, my computer person, spent three days here so far, and we're not done. Even my telephone was "out" temporarily.

I want to thank Jim Crawford and Sharleen for wonderful Circles of Song in May and June. For July, we're looking forward to Denise Sullivan. Denise writes and performs beautiful inspirational songs. We both used to be part of Bob Norman's monthly songwriters' meetings. Bob once edited SingOut Magazine. He's not with us any more, and we often say how much we miss him. I will be doing at least one of his songs at our July Circle.
Ingrid
May 2011
Things have been fast and furious around here: I've been shuttling to Europe every few months because my mother's health has had some setbacks. She is now 88 years old - mentally functioning better than I - she's usually the one who remembers where I lose things - but she can't walk any more. I hope that her recent move to a home is temporary. At least she has wonderful people around her who are able and willing to help. Please keep her in your prayers.

I also finally finished the reconstruction of my house after the fire of March 13, 2010. Please invite me if you want someone to speak about Solar Panels or to show off the ones on their roof. Mine can be seen from the inside, and I think they're the most beautiful sight!

Last week I was interviewed for a European study on alternative energy. I told them too: My Solar Panels saved my house during the fire. Besides, after one year of operation I've discovered that they are a very cost-effective investment. Where else can one earn 17% these days on an investment that's nearly 100% safe?
Our Circle of Song is going strong. Again, I want to thank Carl Croce, Joe Petraitis, Jay Wilensky and Marie Trontell of Circle 'Round the Sun for leading our monthly gatherings in February and March.
More thanks go to Marc Bodino, Jim Crawford, Carl Croce, Rich Deans, Kathy Moser, Joe Petraitis, Isis Ra and Vírago (they filled in last-minute for Sharleen who had car problems – what a treat!).

You all made our April 12 Folk Music at The Saint event another beautiful evening. I am proud to know people like you.

Oh yes - I've also been in a studio, singing backup on three songs for Sharleen Leahey's coming CD. Please keep me in mind if you'd like to have a voice like mine backing you up on your next project. I had lots of fun doing it and would love to do it again.
Ingrid
January 2011
I can't wait for Thursday, January 20. Last month, at The Saint, Kathy Moser agreed to stand in last-minute for Spook Handy, who wasn't able to join us. I feel honored because I've always loved Kathy. No one can sing about the Environment with so much energy and joy as she does.
Kathy also agreed to lead our January Circle of Song. Please come. You won't be sorry.

Kathy will be joined by Sister Isis, one of our regulars, who will bring her drum, of course. Isis is involved in many charitable events in this area. She also teaches troubled children in Asbury Park and Lakewood how to play the drums, and you may remember her from our annual Festival.

Our December NJ Clearwater Circle of Song was another fun evening. Carl Croce and Joe Petraitis did mostly Holiday material. So we decided to ask them to return and do some of their other songs on February 17, together with Rich Deans, who is one of the greatest songwriters in New Jersey today.
O yes – please visit my new Circle of Song Web Page. Carrie and Scott of The Media Planet managed to add this new page to this Website. From there, you can access the fliers of all our Circle of Song programs, including the most recent ones. A similar Page is planned at New Jersey Friends of Clearwater's Website, but so far all we have succeeded in doing (at this critical leadership-turnover time) is causing it to crash temporarily. We will keep trying.

I've also been elected to be a Board Member of New Jersey Friends of Clearwater – which won't change a whole lot of things because I've been attending the meetings for a quite a while.

Congratulations to Joellen Lundy, our new President. She did an incredible job last year at pulling together our Festival. And thanks to Ed Dlugosz for all his help in the past. He did a great job, even though he is experiencing hardships in his family. Other people who have been most helpful with our continued Circle of Song are Lynn Humphrey and Jack and Barbara Charlton.
On December 18, I enjoyed singing at the annual Holiday Sing at the Beacon Sloop Club, together with Pete Seeger and many others (see "Performances"). Carl Croce sang backup for me on my very favorite Holiday song, Belleau Woods, written by Garth Brooks. – Yes, the same Garth Brooks who wrote "I've got Friends in Low Places" has written an incredibly sensitive song about a true event that happened during World War I.

One of the groups that sang was The Rivertown Kids with Danny Einbender. Guess what? - They're up for a Grammy !

Work of the Weavers – another fantastic group – was represented by Dave Bernz, who organized the event, and James Durst. They're a "Must-Hear." They don't only sing the songs of The Weavers, but they tell their story. They've also have added a few of their own songs to the repertoire, and those are just as exciting.

I remember rushing to the stage after I heard them in the past. I recall telling James how much he sounded like the young Pete Seeger. He said he had admired him all his life. And I recall that I kept saying how familiar he looked to me. I recently checked his Website and found that he is organizing a Tribute to Bob Gibson. The very man who was first to put me on a stage.

I have to tell the story about that event: I was so nervous that I totally wrecked my song and was close to tears. Instead of just whisking me off the stage fast, Bob smiled and said, "That sounded so beautiful. – I'd like to hear that again." And guess what? – It did sound good the second time around, if I may say so myself.

Last, but not least - our event at The Saint: I so want to thank all of you who braved the terrible weather to be there – both as a performer and as an audience member, and many of you came. Everyone told me they had a great time, even Scott, the owner, who hears good music every day. We were paid too. As usual, the money will go to Pastor Sony. And we've been asked to return about March.
Ingrid
November 2010
Our third NJ Clearwater Circle of Song was another incredible event. Thank you, all of you who came and showed such enthusiasm for two of my favorite singer-songwriters, Spook Handy and Tom Picard. By the way, this is a monthly event every third Thursday in Asbury Park (see "Performances").

Spook tried some of the material he was planning to do when performing with Pete Seeger on November 20 (at the William Carlos Williams Center for the Arts in Rutherford, NJ). When a dozen or so Hispanic children appeared in our room, who couldn't find the right meeting place in the Church, he used the opportunity to teach them "This Land is Your Land" and "She'll be Coming 'Round the Mountain." I've always admired his wonderful stage presence, but this topped everything I had seen in the past.

I've known Tom Picard for many, many years as a fantastic songwriter who pulls out crumpled pieces of paper from his pocket and sings for us gem after gem that he has written on them. I was delighted when he did my two favorites, "Welcome to New Jersey" and "Pulaski Skyway." He also announced two new venues for Folk Music that he is starting in the West Orange area. I will write about them when I have more information.
And again I want to thank Pastor Sony and for being such a gracious host in his beautiful Church in Asbury Park.
Our Featured Leader-Performers for Thursday, December 16 will be singer-songwriters Carl Croce and Joe Petraitis. Carl does a range of songs. You will know some of them. Joe has written what may be my very favorite song (Where is the Soul), which I love to do with him. Don't miss them.
I am also excited about a second December event: We, the Performers of the NJ Clearwater Circle of Song, have been invited by Scott Stamper of THE SAINT, a Rock Club in Asbury Park, to perform there on Tuesday, December 14, from 7:30 pm (cover charge $10). THE SAINT has held out in Asbury Park, NJ, when it was almost impossible to do so. Today, Asbury Park is becoming beautiful again and resuming its historic place as a center for all kinds of music. Scott and I hope that it will become a center for Folk Music also. Please support our effort and come to this event. Scott needs 35 guests to break even. Our lineup (Mark Bodino, Carl Croce, Rich Deans, Spook Handy, Sharleen Leahey, Joe Petraitis and Thomas Wesley Stern) is simply incredible. We will perform in a Circle, so come, even if you have to be late or if you have to leave early. We will include songs you know and Songs of the Season that you can sing along with. If you can come to only one event that week, choose this one.
Our second NJ Clearwater Circle of Song was one of my experiences of a lifetime. Please check for more information under "Performances" – this is a monthly event every third Thursday in Asbury Park.

The young men of Thomas Wesley Stern have become so good during the few months that I've known them – I could hardly believe what I was hearing. They now write their own songs, and their harmonies and fresh sounds had me mesmerized.

I thought that Anthony Apostolaros would have a hard time following them, but he stole the show by bringing a self-built drum. It had such a beautiful, entrancing sound that everyone in the room took turns playing it and the rest of us clapped and chanted and danced.

And again I want to thank Pastor Sony and his wife Mona who brought us refreshments for a perfect evening.

Our Featured Leader-Performers for November will be singer-songwriters Spook Handy and Tom Picard. Don't miss them.
Ingrid
September 2010
We had our first monthly NJ Clearwater Circle of Song (every third Thursday at the United Methodist Church in Asbury Park – please check for more information under "Performances").

Thank you, Sharleen Leahey and Mark Bodino, for being our first Leader-Performers. And thank you, Pastor Sony for being such a gracious host.

I also want to thank all of you who braved the storm and floods to be with us and support NJ Clearwater and Pastor Sony's work with the homeless and hungry. I had a great time and everyone I talked to ensured me that they did too.

Our Featured Leader-Performers for October will be Thomas Wesley Stern and Anthony Apostolaros. Don't miss them.
Ingrid
August 2010
Big news: We enjoyed the NJ Clearwater Festival so much that we decided to keep up the momentum on a monthly basis:

We are now planning to continue the NJ Clearwater Circle of Song every third Thursday at the United Methodist Church in Asbury Park – I will post more information under "Performances" within the next few days.

All the proceeds will go to Clearwater and Pastor Sony of that Church, who does incredible work with the homeless and hungry in the Asbury Park area. I personally know about it because my friend Aaron became ill and lost his job. Pastor Sony and his church members came to his house almost daily to help him.

It was very rewarding to work with so many Performers at the Festival and to see how everyone "came through" in a big way.

Those Performers included (alphabetically) Kacie Baker, Jan Christensen, Carl Croce, Rich Deans, Emily Grove, Spook Handy, Isis and The Tribe, Sharleen Leahey, Mike Meade, Joe Petraitis, Tom Picard, Eric Russell, Michael Scolnick, Thomas Wesley Stern, Jay Wilensky and Hillary Zaenchik. We sang and played both on our Circle of Song Stage and on the Main Stage. Big thanks go to all of you. I was especially encouraged by the fact that we were joined by teenagers and young folks who are eager to make this Planet a better place for their generation.

I also wish to thank all the Clearwater Volunteers, who made the event possible, especially Mark Lamhut, who did a fantastic job of running our sound and Sky Solar who provided the electricity. Sky Solar also put the beautiful solar panels onto my roof – the very panels that saved my house during the fire in March.

And who could forget Roseanne Schatek and her wonderful sign-language interpreters. Watching them is like observing a ballet in motion. When I did "Soon We Will Have Peace" in seven languages, we were all becoming aware that they were doing an 8th language of that song.

I also wish to thank the members of Ed Ahlstrom's Art Class of the Neptune Senior Center, who volunteered to hand-paint our banners.

I've posted a few pictures, so that everyone can share in the joy of the Festival.
Ingrid
July 2010
I haven't communicated in a while – for a reason. We had a huge fire on my block, and my house sustained more than $200,000 worth of damage. On the positive side: I can still live there and I lost few personal items. On the negative: The insurance and construction processes have been eating away my valuable time.

I was one of the lucky ones. Seven landmark buildings are lost forever. Some of my neighbors lost everything.

I was protected by some of the things I've done right in recent years – for the ecology: I didn't think of fire when I installed Solar Panels, but they protected my roof. They caught all the burning debris. Miraculously, they are still operating, but I had to remove some of them to replace the melted roof underneath.

When I installed double layers of sheet rock in all my outer walls, I was also not thinking about fire, but had energy savings in mind. They kept the fire out after it had burned through my siding and my support beams. A good portion of the damage was caused by water because the firemen hosed my neighbors' houses from my windows. Among other things, it flooded my basement with the heating and hot water systems, which all had to be replaced.
No one was hurt and that's a miracle. And I am finally back to performing again.

I am now making plans for the New Jersey Friends of Clearwater Festival on August 21. I am glad that Mike Meade agreed to help me manage the Circle of Song stage. I will supply more information about that under Performances.

We are excited to introduce Thomas Wesley Stern, a sensational young Folk band from Jackson, NJ, and Kacie Baker, another incredible, very young Folk performer.
Ingrid
December 2009
I sang at Gigi Goldstein's Memorial Service and asked for her son's permission because I want to continue doing her songs. I'll sing one of them at the coming Holiday show at Espresso Joe's.

I've also been practicing with Kacie Baker, who will join me for both of the coming Holiday shows. She just turned eighteen, yet she writes great songs and is a dynamic performer. We met at Espresso Joe's new Folk Festival in Keyport.

I've also been practicing and performing with Joe Petraitis and John Croce.

Most important news: My wrist still hurts, but I am finally able to practice regularly again.
Ingrid
October 2009
Today, I have some good news and some very sad news:
The good news: I will be in a showcase of PASA, the Philadelphia Area Songwriters' Alliance, Friday evening, October 9, at the Walk a Crooked Mile Bookstore near the Mount Airy train station.
Also: Sonny of Espresso Joe's in Keyport is planning to have a Holiday show on December 19, and I will be part of that also.
The sad news: I went to the hospital in Morristown to see my friend Gigi Goldstein. Her e-mail and telephone stopped working and, unfortuntely, the news is sad. Gigi passed away.
Gigi and I met at the Maplewood Ethical Society, where we did a Concert for Peace, together with Spook Handy and Catherine Moon. I was so impressed with her songs that I asked to buy her recordings. She had none, and so we decided to meet and put some of her songs on CD.
The meeting kept being delayed because she became ill and was hospitalized. I finally realized that I had to go there to record her in her hospital room, which I did.
She wanted me to sing her songs and, so far, I have recorded 12 of them. I hope to release a CD some day. I also have her recordings of a total of 27 songs, some of them on my answering device, others, unfortunately, done with a cheap cassette recorder. Please inform me if you know of a way to clean up such recordings.
I hope to keep doing her songs and will contact her son about that. I am so sad not to find her messages on my answering device any more whenever she remembers additional bits and pieces of those beautiful songs that she has written.
Ingrid
September 2009 - Part 2
I am in Love – in a big way:

Is there such as thing is being in love with your Solar Panels? Well, anyway, they are sooo beautiful – a pattern of blue that reminds of our Planet Earth from outer space.

Whenever I want to feel good, I either go to my attic and stare at them or – better still – I go downstairs and watch my electric meter spin in reverse. You must (!) check them out under "Live Photos".

They were installed by Sky Solar in Freehold, New Jersey, the same wonderful people who do donate our Solar-powered sound to Clearwater (no noise – no smell – just great sound).

To quote Saul Rozinsky of the Beacon Sloop Club: "Good Planets are hard to come by – we're trying to save this one."
Ingrid
September 2009 - Part 1

Clearwater was a lot of fun, as usual, and I've been busy since with the installation of my solar panels.

Joe Petraitis will join me for a portion of my next performance: If you liked the Indigo Coffee House – Espresso Joe's in Keyport is even nicer. Sonny, the owner, loves the music himself and treats the performers with great respect. You will find the info under Performances.
Ingrid
August 2009
It's time for Clearwater NJ again, and I will be doing a set at 1 pm on the Circle Stage. I'll also be one of the Sloop Singers again.

I've participated in some of the planning, where it was decided not to charge for the entry. However, the event is very expensive and we urge you to come and contribute voluntarily. We need it to continue our work for the Environment and to be able to have another Festival next year.
Europe was fun for me last June. I did get to see Nuremberg, Munich, Berchtesgaden and Innsbruck with my pilot friend. I also got to sing some of my songs at a local church with Lea Lewalter, an 11-year-old with a beautiful voice, who learned my songs at very short notice.

My wrist is trying to come back. My Chiropractor tells me that he has never seen a break with as many complications. But I am determined to play again, and I have transposed many songs and simplified many chords, so that I can play them again.
Ingrid
June 2009
If you wondered about my silence in the past few months – here is an update:

I did the Christmas show with Marjorie Conn and enjoyed singing in that theater setting very, very much. There was plenty of time between songs to make sure that I recalled all the lyrics. And I enjoyed that so many of you came. Thanks so much for your support. After that, I sang at the Christmas Party of my hiking group.

On December 20, I was sooo excited to sing for the second time at Pete Seeger's annual Holiday Party. Pete delayed it from Friday to Saturday because of the snow that was expected. I walked out of my house that day, thinking to myself, "Good – we only got rain." I didn't see the black ice on my porch when I went head-first onto the brick steps below. My friend Joanne dragged me to the hospital to have my head stitched. Only there did we discover that my left wrist was not "just" strained, but broken too.

All of that should be resolved by now, but it isn't. I can't turn my wrist over or press down on strings using individual fingers.

My friends have been great: Sharleen Leahy and I sang and played together at the memorial service for our friend Roz Hendrickson. Joe Petraitis and Anthony Apostolarus have been playing for and with me at times, and a special "thanks" goes to Mary Lutton who re-tuned my guitar, so that I now can play simple songs in open tuning. It's like learning to play a brand-new instrument, and I miss my beloved minor chords, but hey … it beats not playing at all.

Eric Prussell and I have gone to record GiGi Goldstein again in Morristown, and we managed to piece together two more of her songs. I am now trying to clean up the previous recordings that I made of her using my ancient noisy cassette recorder. Please let me know if you have any ideas as to how to go about cleaning up such recordings. I was able to get rid of a nasty hum in ProTools, but the scratchy motor noise of my old-fashioned tape recorder is still there. GiGi is too ill to do all of those songs again, and I trust that the technology exists to clean up what we have. She is a fantastic songwriter, and I so much want to put a finished CD of her songs into her hands.

I've spent much of my time recording, translating songs into German and working on my stepfather's biography. I'll be in Germany for the remainder of June, where I plan to meet my British friend Norman Ward again, the pilot who flew the Berlin Air Lift in 1948. He has become an avid student of German history who offered to be my guide to historical sites when we met in Berlin, years ago. This time we will visit Berchtesgaden, Munich and Nuremberg, trying to find some of the sites shown in my stepfather's historic photographs.
Ingrid
November 2008
Time has been flying again. I've had an incredible summer and fall - writing, performing and recording.

The highlight of my summer was Clearwater Monmouth, where I opened the event on the East Stage. Thank you – you who came out to hear me. It really made a difference. This event opened up several exciting opportunities.

Among other songs, I sang one by Gigi Goldstein. Spook Handy, Catherine Moon and I sang with her a few years ago at the Maplewood Ethical Culture Society. I was so impressed with her songs that I asked to purchase her CDs. To my surprise, she told me she had none – that only one of her songs had ever been recorded – she's written hundreds.
I offered to help her record them, but soon after that her health deteriorated to the point where she couldn't travel. So I went to see her in her hospital room in Morristown with my small pocket recorder. I handed her my guitar and recorded 25 songs, some of which I perform now. I've also recorded three of them, and they are among my best recordings. I may do a whole album.
Eric Russell, who was in my Clearwater audience, agreed to join me for the next hospital session. I had bought a better digital recorder, and we were able to put down 12 songs. But there is more work for us to do.

Eric has also asked me to sing at what I thought would be a simple political Rally for Tom Wyca, an aspiring Congressman, in Morristown, NJ. I didn't expect that Tom would be there. Neither did I expect U.S. Senator Frank Lautenberg, Barack Obama's advisor Mark Alexander, U.S. Congressman Steve Rothman, and Ellen Greenberg and Diane Weeks, two local politicians in Morris County. That was yesterday.

Another person who heard me at Clearwater Monmouth was Marjorie Conn. She invited me to do "Soon We Will Have Peace" in a Holiday play at the Crane House in Asbury Park – please check my "PERFORMANCES" page. I read her script and suggested three more songs that I rarely get to perform, and she accepted. I did some acting in high school – loved it, but decided to go the singing route instead. This will be a great way to be involved in both.

For those of you who keep asking me about the progress of my stepfather Herbert Datum's life story: Since I gave my speech about it at Brookdale College's World War II Center, Neil O'Connor, an American military history expert, joined me in a year-long effort to correct errors in the manuscript, particularly the photo captions. We were able to piece together an almost continuous story of where Herbert was, as well as when and why.
For those who haven't heard about him yet: He married my mother long after my father died, and he was one of the first 120 of Hitler's bodyguards. After that, he became a vehicle and supply-convoy expert, a role that – much like it seemed to be the case with Woody Allen's character "Zelig" – put him on the scene at just about every important battle and site during World War II. He was even at the Bunker next to the Reich Chancellery when Hitler shot himself. He then took part in the third "Breakout" of Reich Chancellery personnel from the encircled Bunker, as it is graphically shown in the movie "Downfall." He may have been the only surviving member of his group because he hid under rubble after a Soviet bullet hit a book in his breast pocket. I have the bullet.
What made Herbert's story so compelling is that he became the photographer of his SS Commander Sepp Dietrich. I inherited his incredible collection of 1200 photographs, unsorted, in shoe boxes. He died two weeks before dictating his life story to me, but I was fortunate enough to discover that he had already started the dictation and that he left behind diaries and letters.
Last week, I spoke with William DuAime, our French collaborator. He came to the U.S. about a month ago to hospitalize his father, William Wharton, the World War II hero who turned into a great anti-War writer. Among other novels, William Wharton wrote Birdy (made into a movie with Nicholas Cage and Matthew Modine and directed by Alan Parker) and A Midnight Clear (directed by Keith Gordon). Unfortunately, he died from the complications of his illness.

William Junior started the Herbert project by writing captions for the photos, and he is planning to visit again to help us write the final story. All three of us have somehow fallen in love with Herbert and his ability to keep his dignity and humanity, while the world around him was going insane.

For me, this has been an incredible history lesson. The Allies did not permit our school teachers to teach us about World War II, fearing that they would make us into Nazis. Little did they know that the opposite might have been the case: Some of our teachers had almost died in battle and others had been Social Democrats (the German equivalent of the Democratic Party) and, as such, they were persecuted. I vividly recall one of our teachers sneaking anti-War stories into our German classes, thereby risking his job.

My uncle, meanwhile, was dedicated to the Christian Democratics (the equivalent of the Republican Party), which often put me at odds with my teachers. I am sure that they didn't realize that Uncle Otto became a politician because he had not been involved in the Nazi party, and that we, as small business people, tended to vote and be involved in the more "conservative" party.

I am actually quite proud of most of my teachers: Somewhere in my files is a photograph that I found on the Website of the Leo Baeck Institute. It shows a terrible scene: The synagogue in Zeven, my home town, was not burned down by the Nazis because it was attached to other houses. However, the Holy objects were dragged out and burned. An order had been issued to all the teachers in Zeven to attend and to bring their school classes. To the credit of our school teachers, no one went, and the only spectators were a few Nazis in uniforms and a few bewildered children who must have stumbled into the scene.

This week I've been singing for the Democrats, but I have come to the firm belief that we have to meet Somewhere in the Middle – remember that great Country Song by Diamond Rio? No – let me correct that – it's where we all must meet to make this world survive.

I saw Pete Seeger a few days ago. I've translated an album's worth of his songs into German. His comment: "My songs sound a lot better in German than in English." I hope to promote them in Germany.

I am also still working on my song project about German history. I've recently read a book on the Berlin Air Lift, The Candy Bombers by Andrei Cherny. They deserve a song. I became friends with one of those pilots, Norman Ward from the UK. Andrei calls it "America's Finest Hour" when the bombers began to bring food and supplies into beleaguered West Berlin. But don't forget the British – they helped too. Norman was stationed a few miles from my house at the time I was born.

West Berlin was like an Island in Soviet territory, and the Soviets stopped the supply trucks from entering the City, expecting that it would force all of Berlin to become Soviet. It was then that the Army supply people took over from the fighting Armed Forces. And it was then that the Allies truly won the War against Hitler.

Andrei's book starts with a moving story about an old lady who was crying during a 9-11 protest in Berlin. When asked why she cried, she responded, "They've hurt my friends, the Americans. I was a child during the Airlift." This is remarkable because she had probably been subjected to much indoctrination in the Hitler Youth, only a short time before. Bombs thrown on Berlin could not have erased the programming from her memory. But the humanitarian effort of the Airlift did it. Berlin and Germany became fiercely pro-democratic.

I am just realizing that I have told the people at Fordham Publishers, who want to publish my life story, that I just can't get the last 100 pages written. And here I am writing the whole thing in my blog. Oh well.

Please come to our Holiday Show. Your support has been wonderful.
Ingrid
June 2008
I just returned from the Strawberry Festival in Beacon, NY, and it was fun to join Spook Handy during his set, and to see Pete Seeger, Danny Einbender and a wonderful young act, Storie Laurie & Ira Mackintosh, who will cover my children's song "Come to the Sea."

Last month, I did something very exciting. a live interview, including three songs, for Mindy Fradkin on her wonderful program "The Smile Revolution" on WKNY in Kingston. I am very impressed by Mindy and her positive outlook. It inspired me to write my song "Smiles." I am planning to post a portion of the program here as soon as I receive it.

I also want to thank Jim Albertson for his repeated air play on his Down Jersey program on WSNJ. It was also a pleasure to meet him at the New Jersey Folk Festival.
Please see "Performances" for the next event with Joe Petraitis and myself - on June 21 at the Café Z - a venue started by fellow singer/songwriter Tom Picard. I am also scheduled to sing for Clearwater Monmouth again, including a solo on Saturday of their next Asbury Park Festival, as well as other events I love to do with them.
Ingrid
May 2008
I cannot believe that I will be going to the Memorial Service of a dear friend and mentor, Bob Norman cdbaby.com/cd/bobnorman1.

I don't want to repeat the press release here. You can find it at Ron Olesko's Website ronolesko.blogspot.com. But I want to give you a feeling for my loss at this time – our loss. Bob was the kind of person who made you believe in humanity.

For six or seven years, I've been going to his house every month to share new songs I have written. I didn't care that he lived an hour away. I wanted his gentle, to-the-point input before I sang the songs anywhere else I loved to listen to his recordings and went to all of his concerts. So did most of us who became friends in his circle. I cannot even begin to describe the void I have felt during the past two months when Bob wasn't feeling strong enough any more to meet with us.

As I am sitting here, grieving, I searched for his name on my computer and found a few photographs. I will post them under "Live Photos." They will speak for themselves.
Ingrid
April 2008
I am rehearsing for my upcoming two concerts – please check under "Performances." Here are a few quick additions to this Website:

I am so happy to be doing the Earth Day Festival in Beacon again. I've written two songs for it, "Planet Earth" and "It takes One," and I may also do "We can Change," which I did last year. You can find the lyrics in my "Lyrics" page. I want to thank Mindy Fradkin of The Smile Revolution for playing my songs on her radio program "The Smile Revolution" out of Woodstock, NY.

The New Jersey Folk Festival at Rutgers is under a German theme this year, and I have been asked to do the German National Anthem. I realize there won't be a lot of time to explain its history on stage, but here it is, for those who are interested:

The Story of the German National Anthem

In 1797, Joseph Haydn wrote the song as a birthday anthem for the Austrian Emperor Francis II.

Hoffmann von Fallersleben, a poet of popular children's songs, added new lyrics in 1841 and called them "The Song of Germany." It became the German National Anthem in 1922, long after his death.

When he wrote "Deutschland über alles" he could not have anticipated that someone might take this literal. Von Fallersleben enthusiastically described Germany's boundaries as reaching from the Rivers Maas to the Memel, from the Etch to the Belt. The last time I checked the map, the Maas was in Holland, the Memel in Lithuania, the Etch in Italy and the Belt in Denmark. I am sure von Fallersleben did not intend for anyone to go out there and conquer these lands.

The second verse was harmless, in comparison – it dealt with wine, women and song.

Even though the Horst Wessel song was usually preferred to this anthem during the times of the Third Reich, there was quite a bit of discussion after World War II whether to still use this song. Only the third verse was kept, which reads as follows:

The Song of Germany (translation by Ingrid Heldt)

Unity, Justice and Freedom
For our German fatherland,
Strive together and in brotherhood,
Strive together, hand in hand.
Unity, Justice and Freedom are
Solid ground whereon we stand.
Glow and blossom in your beauty,
Blossom, our German fatherland.

Das Deutschlandlied (music: Joseph Haydn; lyrics Hoffmann von Fallersleben)

Einigkeit und Recht und Freiheit
für das deutsche Vaterland,
danach laβt uns alle streben,
brüderlich, mit Herz und Hand.
Einigkeit und Recht und Freiheit
sind des Glückes Unterpfand.
Blüh' im Glanze dieses Glückes,
blühe, deutsches Vaterland.

Please also check my new "Live Photos" section, which I will keep updating.
Ingrid


February 2008
I am finally cleaning up this Website. Please check under "Performances" for the Earth Day Festival on April 21 in Beacon.

Also, please check out our monthly meeting events at Clearwater Monmouth. You will enjoy being with a great crowd who is doing a world of good, educating children and grownups about the environment.

Incidentally, I participate in their Environmental Teaching events also, and there is nothing as great as teaching an entire class of children to sing my song "Planet Earth" and hearing it back from them.
Ingrid
January 2008
I hope you all had a beautiful Holiday Season. I enjoyed having a little break.

This month I am looking forward to participating in a Benefit/Tribute concert at The Headliner, a large Club on Route 35 in Neptune,NJ. Please check my new "Performance" page for more info.

All proceeds go to the family of Helyn Chobocinski, a very special woman, one of the co-founders of Clearwater Monmouth. She passed away after a long illness, and it left her family in a difficult financial situation.

I met Helyn, when we shared the stage at Clearwater Monmouth, but I could not forget her. My friends, who came to hear me, all commented about her. She had to sit to be able to perform, but her voice was hauntingly beautiful.

Among the many other performers whom she befriended in her lifetime and who will participate in this concert, are a few whom I know personally: Spook Handy, Lackawanna Rail and Mel & Vinnie.

If you cannot be there, please contribute any amount to:
Friends of Helyn and Ingrid
c/o Art San Filippo
12 Leland Terrace
Tinton Falls, NJ 97724-2810
If you are interested in Clearwater's great environmental work, please join us at our monthly meeting before the concert. We have changed venues to a place that is easier to find. Our meetings now are: every first Sunday at 2 pm in the Community Center, 68 Broad Street in Eatontown, http://www.mcclearwater.org/calendar.php
Ingrid
October 2007

On Sunday, October 14, I will sing at the Beacon Pumpkin Fest, and I was given the spot right before Pete Seeger, and have asked Joe Petraitis, Sharleen Leahey and Mike Meade to join me, each on one song that we will do together. All of us will then do "Soon We Will Have Peace." A few weeks ago, at one of his Peace Gatherings, Pete played the banjo on that song. I hope to ask him to join us, but he hasn't had a chance to practice it, and my chord progressions tend to be a little unusual.
Before that, at 12:30, I will join Joe on the Children's Stage. That was much fun at the Corn Festival last month.
On November 10, I will be on a Music For Peace panel at the INDIE -CON Music Convention led by Rik Palieri (www.banjo.net) in Burlington, VT. Mike Meade will also be there, and we will both be singing. I will post more info when I receive it.
Ingrid
September 2007
On September 22, I will be joining Joe Petraitis on TV for one or two of his songs. The show is called Café Improv www.CafeImprov.com. It's on Channel 30 – 7 to 11 pm. Channel 30 is the Princeton Community Channel. I am told that it's hard to get it outside of Princeton. You may want to come and be part of the audience instead. Please check the above link for the directions.

On September 23, there has been a change of program. Instead of singing on the Main Stage at the Alternative Energy Festival, I will be singing on the Children's Stage with Joe Petraitis, as part of his performance. Last time, he started early, close to 12 noon.

I am also scheduled to sing at the Beacon Pumpkin Fest on October 14, where I am to sing in the spot right before Pete Seeger, who is usually on around 2 pm. While there, please sign up for a free ride on Pete's boat, the Woody Guthrie.
Ingrid
August 2007
I am just rushing out for yet another event: The Corn Fest in Beacon, NY. I will be singing backup for Sharleen Leahey who is on at 4 pm. My buddies, Spook Handy (I love his song "Vote"), Joe Petraitis (I love his song "Where is the Soul") and Arlon Bennett (I love his song "Be the Change") will be there and, of course, Pete Seeger (I love so many of his songs – I can't count them).
Clearwater Monmouth is also coming up where, on Sunday, I will be doing a one-hour set on the East Stage. Before that, I will also be part of the Sloop Singers on the West Stage. And I expect to be "hanging out" with my friends all day Saturday on the third stage, the "Circle of Songs."
Next on my schedule is the first Alternative Energy Festival in Beacon on August 19, where I will also be doing a set.
I also am scheduled to do a full hour on the East (Family) Stage at this year's Clearwater Monmouth Festival, Sunday from 1-2 pm. For part of my program, I will be joined by Mike Meade and Sharleen Leahey (East Stage). I will also ask Joe Petraitis whether he can come. I will also be part of the Sloop Singers on the West (Main) Stage, Sunday from 11:30 until 1, and I will spend the entire day on Saturday on the "Circle of Song" Stage. Come and share a song – or request one. It is lots of fun.
Incidentally, Mike Meade and his band Lackawanna Rail will be on the East Stage after me. We will have CDs available somewhere nearby. Mel Healy is on after them. She and her husband Vinnie are doing an incredible job fundraising and organizing the Circle Stage at the Clearwater Revivals. At some point we all may return to the Circle of Song (the third stage). Come and share a song or request one.
Also: Please check out the butterfly tent with Una McGerk. I was so impressed with her work last year that I wrote her a song "Chase the Butterfly" and gave her a CD to sell as a benefit for "her" butterflies.
She is giving all the proceeds to the Mexicans who are trying to put back the trees that our Monarch butterflies need there in winter, while she is raising butterflies at her house, so that they have a fighting chance to survive. I am sure she will release some of them, and we will have fun with them again all over the festival park.

I won't be giving any speeches this month. At Brookdale College, I met my second collaborator, Neil O'Connor, an expert in Military History, who is helping me date and identify many of the photographs that I inherited from my mother's second husband, Herbert Datum. My other collaborator is William DuAime, the son of William Wharton, who wrote the amazing anti-War book "Birdy" that was filmed with Nicolas Cage.
Neil and I are working hard on this project. He is comparing Herbert to Woody Allen's character "Zelig" who just happens to show up at all important world events. Except that Zelig was mounted onto news reels, while Herbert really did show up because he had an interesting set of skills that took him to so many places: Not only was he Hitler's bodyguard (one of the first 200), but he also became his Commander Sepp Dietrich's photographer.

Besides that, he was a vehicle expert involved in motorizing various divisions and later supplying the Eastern troops with food and arms, all of which he photographed. I even found court papers that show him back at Reich Chancellery at the time when Hitler killed himself, to end up leading the second "Breakout" of the Reich Chancellery staff from Berlin. We are telling his story using diaries, letters and other contemporary materials. Incidentally, he was the one who taught me most of what I know about photography.

If you have any idea as to what publisher may be interested in this, please contact me. Fordham University Publishers have expressed an interest in publishing my own (half-finished) memoirs. My father and grandfather were resisters, while my family includes everyone from Jewish and gay in-laws to a rabid Nazi who killed himself and his entire family when Hitler did the same.
Last, but not least – and this will testify to the power of the Internet:

Under "My Work," I mentioned that I lost track of my family in Tennessee when my Aunt Hilda died – the woman who lent her name to my recording company. A month or two ago, I received a call from a very nice woman in Tennessee with whom I talked for about an hour. She is Hilda's daughter who – because she still misses her remarkable mother – put her name into a search engine and found me. Of course, we agreed to meet and it will give me an excuse to visit Nashville again.
Ingrid
May 2007

Earth Day and the Mine Street Coffee House were wonderful! I couldn't believe how much we all have grown – we – Briz, Jeff Griesemer, Spook Handy, Mike Meade, Bob Mecklenburger – the people who regularly meet at Bob Norman's house to critique each other's songs – joined by David Massengill from NYC, one of my favorite songwriters.

More things are coming up:

I added one more speech about my coming book Hitler's Other Photographer on Sunday, May 6, at 4 pm at the Stephen Crane House, 508 4th Avenue, Asbury Park NJ 07712, 732-775-5682.
The other speech will be on Tuesday, May 8, at 7 pm, at the Center for World War II Studies and Conflict Resolution, Brookdale College, Student Life Center in Lyncroft, NJ.

I will also be singing on Saturday, May 12, 2007. It starts at noon in Mt. Holly, New Jersey, where the Delaware River Folk Society is organizing its annual Fantasy Tea and Art Fair on Route 541 is Exit 5 of the NJ Turnpike.
Ingrid
April 2007

I keep thinking that things will become less busy one of these days, but that doesn't seem to be happening. I've been so active that I haven't found the time to update this Website or send mailings.
One of the places, where I've been performing is Clearwater Monmouth. Mike Meade and I have become somewhat regular performers (singing together) at their meetings and with their traveling environmental show. I love it, and many of my songs – the very ones that have been called a little "preachy" by some – are perfect for teaching about the environment – exactly what I was hoping to do.
Our next performance together will be very soon – Earth Day - April 21, on board of the Clearwater, which will then be anchored in Beacon, NY - for the first time in many years. The entertainment is from 1 - 5 pm – we will be "on" early because we are planning to do another performance that evening. If you search this document for "Beacon" you will find directions to the Sloop Club near the Beacon Railroad Station. That's where the Clearwater will be. You may also find info at www.clearwater.org

That evening (April 21) we are planning to do a few songs at the Mine Street Coffee House in the First Reformed Church in New Brunswick, 9 Bayard Street: blog.firstreformedchurch.net/mine-street-coffee-house . Our friend Bob Norman - Mike and I met at his house - was scheduled to perform, but he doesn't' feel up to it. So we practiced two of his songs, and a few other friends of Bob's have done the same. We are supposed to fill in for him if he can't perform or to do a few songs if he can. Please follow the above link for info on the event.
The other date that is coming up quicker than I can believe is May 8. I am scheduled to speak for the Center for World War II Studies and Conflict Resolution at Brookdale College, Red Bank, NJ, at 7 pm, about my Stepfather's photographs. The link for that is: www.brookdale.cc.nj.us/fac/tlt/ww2 . I did quite a bit more research for that speech and for the book that I am putting together. In Germany, I spent hours in the Film Archives, comparing the pictures to the old Wochenschau reels and similar films. And several people in the Archives have checked over the information and corrected it. None of these photographs have been shown in public before.
I hope to see you at one of these events.
Ingrid


November 2006

Time has been flying again. I haven't been performing much since August because I've been busy working on my stepfather's photographic World War II Biography. But here are a few photographs of my past few performances (they have been moved to "Performance Photographs."
The first one was taken by Michael Meade of the band Lackawanna Rail at one of the Mt. Holly benefits. Joe Petraitis and I sang two benefits last year with members of the Delaware River Folksong Fellowship, one of them for Katrina victims.

The next photo shows Mike and me having fun at Clearwater Monmouth.

Please check out my updated LYRICS page. I have added a few new ones under RECENTLY ADDED, including two Holiday songs and one about a young lady I met at Clearwater. She raises Butterflies in her home in Asbury Park, with the help of people of the Museum of Natural History in New York City.
I have seen more butterflies in my yard this year and, of course, they were all over Sunset Park in Asbury Park, where Clearwater was happening. Let's hope that this will help the Monarch butterflies to survive, even though we humans are building up their natural habitats.
"Take this Country Back" was written after I met Hillary Clinton on the Clearwater. I sang there for a group of school children. What a wonderful idea: The crew went out and cast fishing nets. Then they placed the fish into an aquarium and gave the children a chance to identify them with the help of a book ("If it has fins like this, go to page X" – etc.).
They also taught how to navigate the river and how to keep it clean. I will never forget that Styrofoam cups don't degrade much at all. I have since changed my buying habits when I shop for coffee while out on the road. Coffee tastes better from paper cups anyway.

The rest of the songs will probably become part of my coming CD WALLS DIVIDE about German history. I hope to have it ready when I begin speaking about German history next spring.

I am scheduled to speak about the Biography I am writing at the Crane House in Asbury Park in April and, on May 8 (7:30 pm), at Brookdale College in Lyncroft, NJ, as part of their award-winning World War II Series. I want to thank Mary Byrne for taking me there and introducing me.

I hope all of you have had a good 2006 and that you have an even better 2007. As usual, I'd love to hear from you.

Also: If you have a new e-mail address or have changed it, please let me know, so I can keep you informed.
Ingrid
July 2006
My next Concert will again be the Corn Festival (a benefit) on August 13 in Riverside Park, Beacon, NY. I will opening at 12 noon. After me will be many more wonderful performers, inclluding Pete Seeger and Spook Handy and you can sign up for a ride on Pete's boat, the Woody Guthrie.. It's rain or shine and free The fundraising is done by selling corn.
I will have preliminary copies of my new CD HOPE ROAD – please see my comments about it below
"Take this Country Back" was written after I met Hillary Clinton on the Clearwater. I sang there for a group of school children. What a wonderful idea: The crew went out and cast fishing nets. Then they placed the fish into an aquarium and gave the children a chance to identify them with the help of a very well-written book ("If it has fins like this, go to page X" – etc.).
They also taught how to navigate the river and how to keep it clean. I will never forget that Styrofoam cups hardly degrade at all. I have since changed my buying habits when I shop for coffee while out on the road. Coffee tastes better from paper cups anyway.

The rest of the songs will probably become part of my coming CD Walls Divide about German history. I am scheduled to speak about the Biography I am writing at the Crane House in Asbury Park in April and, on May 8 (7:30 pm), at Brookdale College in Lyncroft, NJ, as part of their award-winning World War II Series. I want to thank Mary Byrne for taking me there and introducing me.
Also coming up:
Clearwater Monmouth on August 19 and 20. 11:30 till 7 – Asbury Park (Sunset Park). Ask for the Third Stage, where the Sloop Singers hang out. I hear that Magpie and a number of other wonderful performers will be participating in our group. If you like to perform, bring an instrument and play (in the round). I'll be there for most of the two days, unless we have another deluge like the one two years ago, when we could barely keep our instruments from swimming away.

A few comments about the songs l will be doing in Beacon and Asbury Park – all from my coming CD HOPE ROAD:
"Raise Your Voice" is a collaboration with Pete Seeger – a "lullaby for future rebels", as I call it. Two years ago, Pete handed me one verse, which he had been given about fifty years ago by a woman who thought me might finish it. He realized that he wouldn't find the time and asked me to try to do it. I did - and a year later Pete let me have his comments which, of course, were all incorporated. Recently, I recorded the song in German for my Europe trip, and I didn't have the time to prepare a different CD for Nancy Cahill. She requested that I do it in German at the Corn Festival, and so I prepared a version in German and English. I now like that version so much that I used it for my CD.
August 13, the day of Corn Festival, is a very sad anniversary – for Germany and the World: It's the 45th anniversary of the building of the Berlin Wall, and I am planning to sing a song about it, also from the CD HOPE ROAD. I rarely do it in public because I still become very emotional about the subject and often can't make it through the song. It's called "Walls Divide."
The song "Hope Road" is about an actual street near Eatontown, NJ. Route 18 has an Exit named "Hope Road." I decided to check it out, one day, and "Hope Road," the song, describes the actual street, with the exception of the Army base. Often, when I perform it, people come up to me to tell me that they lived there or are familiar with the street.
"Soon We Will Have Peace" has been translated by me and five friends into seven languages. I want to thank Jakob Balshan for the Hebrew, Siham Alfred for the Arabic, Michelle Weinstat for the Spanish, William DuAime for the French and Amy Lee Segami for the Chinese. It was a true international collaboration, and love how it turned out. It's still a sing-along. The last few times I did it, the audiences sang in English, and I announced the respective languages, in which I sang the same things at the same time. If you know a language that is not included, please send me your translation and I will attempt to post those additional verses on this Website under "Lyrics."
HOPE ROAD, the CD, will also contain "Alison," a song co-written with Joe Grant, one of the founders of the great Canadian band Tanglefoot . Joe had told me about a wonderful young American singer, who does a beautiful version of his song "Selkirk Settler's Lullaby." One day, I received a distressed e-mail from Joe, informing me that Alison had signed up to go to Iraq. Maybe our prayers helped: He informed me recently that Alison has become pregnant and was transferred to Germany. If you're wondering what Joe has been doing since his retirement from Tanglefoot . He has started a new band with a less strenuous travel schedule. It's called Gopher Baroque and has brought out a wonderful CD SHIPWRECKED WHISKEY.
"Violets" is about my mother's experience during World War II. Life can be so ironic: My grandfather refused to name her Anne Marie because that was a song the German soldiers sang during World War I. He named her Erika instead, which means "heather." And the most popular marching song of the German soldiers during World War II became "Erika." Mom was the teenage office manager of the Hitler Youth in her State, never realizing that she was preparing the boys for war. When they were sent out, she started a newsletter through which they communicated with one another. Our home State Pomerania is now Polish. I took her back there 50 years after she had to leave by bike and it became a very emotional trip for me too.
I want to thank Michael LaGennusa of MJL Studios for his inspiring guitar tracks on HOPE ROAD and Michael Kianka of DTC Records for his invaluable technical advice.
So much for today. I will be posting a new pictures in the near future. Fran Sansone took a great one of Pete and me, but I want to ask his permission. And Michael Meade of the band Lackawanna Rail took some of Joe Petraitis and me. But for now I will only post this text.
Ingrid


May 2006

Again, I cannot believe how quickly time has passed. I have been completing the first draft of the first volume of my Stepfather Herbert Datum's Biography. I even have the first two speaking engagements lined up for next year, one at a College, the other at the Crane House in Asbury Park. And I've been recording my next CD, half of which will be songs in German and the other half songs about Germany. I've also been writing songs and singing at my usual places.
But here is my next performance with Joe Petraitis: The Fantasy Tea and Art Fair of the Delaware River Folk Song Fellowship on Saturday, May 13, 11 to 5 pm (we will be on after 3 pm).

Hope to see you there.
Ingrid


January 2006

I have another quick announcement:
A Hurricane Survivors Relief Benefit Concert organized by my friends of the Delaware River Folksong Fellowship. I am so glad to be part of it.

It will be at the Unitarian Universalist Church in Cherry Hill on 401 Kings Highway
609-792-9364 www.uucinch.org. I'd love to see you there.
Ingrid
November 2005
I want to wish everyone a wonderful Holiday Season and quickly write about our recent Concert: "NJ Songwriters Reaching Out for Peace" at the Ethical Culture Society in Maplewood.

Spook Handy was wonderful, as usual. Besides "Vote," he did his "Corner Hardware Store" song that I love. Catherine Moon is young, influenced by rap and rock. She had a cold and was losing her voice, which caused her to read her last song as a poem.
It proved that her lyrics can stand on their own. Gigi G(oldstein) used to be a pop singer with her own band, and her songs proved to be stand on their own as solos also. And Joel Horwitz brought lots of energy to the stage. I noticed his great rapport with children.
We had such a good time and hope it will be the first in a series. Please let us know if you have any ideas of where we could take it next.
A few weeks earlier, Joe Petraitis and I re-joined on the spur of a moment. We sang a concert at the Hunterdon Developmental Center, a home for people with multiple handicaps.
We didn't expect to enjoy it as much as we did, and we may do more similar concerts in the future.
Ingrid


Late September 2005
I have more information about the Raritan River Festival. I found out that Pete Seeger started it 20 years ago and that he sailed his Sloop "Woody Guthrie" from Beacon to the Raritan River. The event starts at 11, and I will be on about 12 noon.
Ingrid
September 2005
I so enjoyed the Corn Festival and – the weekend after – Clearwater Monmouth.
The camaraderie at the "Circle of Songs" stage was wonderful, and more and more people settled down there to hear us.

On Sunday, as part of the Sloop Singers on the Main Stage, I had the chance to do a solo on "Where Have All the Flowers Gone," in German and English. Pete wrote that, of course. But, honestly, I thought it was a German folk song when I grew up.

I also enjoyed having some of the musicians stay at my house and serenading me and the neighbors on Saturday morning, before the big event.

Upcoming is a World Trade Center Photo Exhibit at Brookdale College's Bankier Library from September 8 until at least September 14 (maybe longer). I will be there on Saturday, September 10 from about noon until 3:30.
And the Raritan River Folk Festival will be on Saturday, September 24 from 11 am until 7 pm in Johnson Park, Piscataway.

I hear that is "across the river from Brunswick's riverfront," but I will try to find out more and post it here. I will also try to narrow down the time when I may be performing.
Ingrid
July 2005
This is a quick update to give you the info on the upcoming Beacon performance. I will be singing in the Corn Festival (a benefit) in Beacon, NY's Riverside Park on Sunday, August 14, starting at 12 noon. Spook Handy will be the MC and the main performer Pete Seeger.

It's free – rain or shine - a fun day out in the Riverside Park of Beacon that Pete and others salvaged from being a garbage dump.
Also, please check out my updated "Lyrics" pages and "Soon We Will Have Peace" for free downloading under "Multimedia."
Ingrid
May 2005

I have some big news: I will be performing at the next Corn Festival in Beacon, NY on Sunday, August 14. Pete Seeger will be there too. It is so rare that I have advance notice of a concert, I really want to let people know now, even though I will have to post the details later.

Pete told me he likes my song "Soon We Will Have Peace." I call out the lyrics on stage and, so far, each audience has sung along. Sometimes I feel it's like a chant, and maybe that's what it is.
I have also been handing out CDs of that song and expect to be posting it under "Multimedia" on this Website soon.

Last winter I was complaining, "I feel like I have been hi-jacked from songwriting and singing." I said it to a young history teacher from France who was staying at my house for a month, waiting for some papers to be processed before he could return to Europe.
He ended up working with me on my stepfather Bert's biography, writing 1200 captions for as many photographs, many of them of Hitler and his court. Bert was one of two photographers who had easy access to Hitler in his early days.

We worked so hard that I began feeling like a recluse. During his last few days here, the young teacher said, "You must write songs about this material." And that was all the inspiration I needed.

At first I thought no one would want to hear songs about Germany, but decided to write them anyway – for me. Now I've begun performing them, and the response has been incredible. I will post some of the lyrics under "War No More." One describes the last day of World War II, as seen by an SS man (Bert) called back to defend a destroyed Berlin. I do this one only for grown-up audiences since it is very graphic.
Another is about my Dad, who was able to take one Jewish family to Bremerhaven's harbor by night, so that they could escape the horror.

These are intimidating subjects to write songs about, but maybe very necessary ones. I forgot who said it, but we need to work through past mistakes, so we can stop repeating them.

I also met with the head of the "Center for World War II Studies and Conflict Resolution" at Brookdale in Lincroft, NJ, and we discussed the possibility of my speaking there about Bert's photographs late this fall.

I have particularly enjoyed singing in churches, libraries and bookstores. Please contact me if you have any ideas.

Before I forget it: I heard Tanglefoot (tanglefootmusic.com) again, at a fair in Allentown, PA. I am happy to report that the "new" band members (Terry Snyder joined two years ago) have become so at ease that it feels like the old band again, with some added licks and harmonies.

I also saw Republic (Republicmusic.com) mentioned in the news as the best thing to come out of Asbury Park since you-know-who. I am so proud of them.

And I've been following Spook Handy (http://www.spookhandy.com/), whenever possible. I so much enjoy his message of Peace and the support he has given me. He and Arlon Bennett organized a showcase for several songwriters last month through NSAI, the Nashville Songwriters Alliance, and I was happy to be part of it.
Ingrid


October 2004

I am doing an Opening Act for Steph Furness for the Somerset Voices for Peace and Justice.

It's a wonderful group of people meeting in a great coffee house. Sharleen Leahey, who booked me, has a song called "So Frail" on her new CD, and she is very supportive of her fellow artists.

The event is scheduled for Thursday, the 21st, at 7:30 p.m. at:
The Sanctuary (908) 725-0808
41 Main Street, Somerville
Ingrid
September 2004

I can't believe I am actually sitting down to write my next update. It's been a while, and I had such an enjoyable summer.

I did manage to see Rich Warren again, 30 years after my debut on his Midnight Special. We met at the Susquehanna Folk Festival in Maryland, and he was mourning his dog Nipper, who had just died of Cancer.

Do I understand ! Squeekie is 19 and has been with me all her life. She's a cat with an attitude – not always likeable – but I can't imagine life without her or my other cat Tigger who adopted me when she was a stray and who has become friends with everyone in my neighborhood. I am not surprised that Rich devoted an episode of his show to Nipper.
I am happy to say that I've completely returned to my Folk roots, where I am most comfortable as a writer and performer, and that seven songs are finished for my new CD "Visualize Peace!" You can buy them now for $7 as a preliminary mini CD from me personally or through Hilda's House Productions. I cannot accept credit card orders and my distributors cannot break even at that price.

The CD case contains a coupon for a $7 rebate on the final CD. This way you can hear me and decide for yourself whether you want to invest in the full-length CD that will have 12 songs. Hilda's House's order form can be accessed through this link: ORDER

I'd love to have your feedback at this time because I can make changes before the full CD is released.

This summer, I was fortunate to be invited by Spook Handy to the Strawberry and Corn Festivals in Beacon, NY. I knew that Pete Seeger lives there, but I didn't expect that Pete might actually get on stage and do full sets. He didn't only do that, but he was there from the very beginnings to the very ends of each event, supervising everything down to the garbage removal. He is amazing.

One of the Beacon men said to me, "This man is for real. He has a pure heart." What's more, he has lost none of his magic. During "Habe Jojo," he was dancing into his audience, and he had everyone up on their feet, applauding.

I knew Pete has taken a liking to Spook's song "Vote," but didn't realize how much he enjoys singing and playing it. During the first festival, Pete was manning one of the booths when Spook announced the song, and there was Pete, banjo in hand, ready to play along. During the second festival, everything was in disarray because it was raining, some of the performers didn't show up on time and Spook filled in much sooner than planned. We simply couldn't find Pete when Spook did his set. In the middle of the song, there stood Pete, banjo in hand, as if to say, "But I was going to sing this." But then Spook was honored even more: Pete, during his own set, called him back onto the stage to sing the song again, while a lady pointed to the Voter Registration booth nearby.

I also caught an Arlo Guthrie concert this year, whom I had never heard in person. What a storyteller he is! And I was invited to a very unusual performance at the German Embassy: Woody Guthrie's daughter Nora gave German singer-songwriter Wenzel access to Woody's poems, and the result is an incredible album titled "Ticky Tock." Some of the songs gave me the chills – they made me feel as if Woody were alive and writing about recent events in New York City, for instance "Well, I did walk an' the wind did come – And I got to see who was the toughest - New York Town or the high blowing wind – And I found out New York was the roughest." A moan went through the audience when he sang that. The CD is available in German and in English from the Woody Guthrie Foundation (212-541-6230).

No one noticed that Wenzel was using "cheat sheets" during his performance until there was a request, and that caused him to go through his notes, frantically. Someone asked him to "wing it," and he turned around to say, "But you donn't undurrrstand – I am Tschermenn – I need papurrrs." I may just decide to steal that line because I am having such a hard time memorizing my songs.

I've been singing openers for the Somerset Voices for Peace and participated in many open mikes, trying to recapture my performance skills. I am also practicing to becoming one of the Sloop Singers who perform at the Clearwater and Beacon Festivals.

Brian's band Republic has recently been competing for one of the four finals spots of MTV's Battle of the Band competition. We are anxious to hear the results. I will keep you informed.
Ingrid
February 2004
Another great friend from my past has died: Fred Holstein, who used to own a Club called Somebody Else's Troubles, together with his brother Ed, who wrote for Bonnie Koloc, and Steve Goodman, whose song City of New Orleans was made famous by Arlo Guthrie.
I used to "hang out" there every week, after my lessons at the Old Town School of Folk Music, and I can't count the times when I mentioned to my New York/New Jersey friends, "It's a shame that we don't have places like that around here."
I so vividly remember Freddie's renditions of Amsterdam by Jacques Brel, Streets of London by Ralph McTell and Song for November by Gordon Bok. You may want to check out www.fredholstein.com and www.CDBaby.com, where I purchased Fred's twin CDs. I was privileged to witness a truly unique recording that Freddie did of his brother's song Victoria's Morning. I had mentioned to Rich Warren of WFMT that I was a big fan of Freddie's, and he dug it out for me.
Rich is now the sole Host of WFMT's fantastic Folk Program The Midnight Special. I counted about 100 stations on the Internet that broadcast his program, and I feel so fortunate that Fred's passing got me back in touch with it. I hadn't realized that it is broadcast every Friday and Sunday on WUMB.org out of Boston. I now catch it whenever I can and it transports me back into the past, when I used to tape the program every week and when, eventually, I was on it.
I responded to a eulogy Rich wrote for Freddie, sure he wouldn't remember me. Years ago - I don't care to specify how many - I was taken to his studio by Bob Gibson to record my very first song To John, a precursor of Chrome, Crystal and Glass. To my surprise, Rich responded that he still has that recording. I begged him not to play it - I was so nervous when I recorded it that I had a few drinks - something I promised myself never to do again. I sang badly out of tune.
In one of my last few updates I reported on the passing of another of my Chicago friends, my guitar teacher Ginni Clemmens. That put me back in touch with the Old Town School, where I met her. I have since written two Blues numbers, The Summer Rain and The Dark Before the Dawn. When Ginni was alive, I didn't have the nerve to sing or write the Blues - She was truly one of the great Blues Mamas. Now it feels as if I have become a carrier of the torch.
Brian Saint's band REPUBLIC was asked by the Stone Pony people to perform there again, this time as the main act on a Saturday night. They were informed that "a few camera people" might be there to film some TV pilot. I don't think anyone in the band knew that they had been entered into MTV's Battle of the Bands. That contest started out with 250 bands. It's now down to 50. I am crossing my fingers that REPUBLIC will make it to the top, but they have the right attitude about it: "It's gotten us bookings in NYC." Please check out the details on www.republicmusic.com. I feel fortunate to have witnessed how the seasoned MTV camera people jumped onto the stage to embrace the members of the band. See - I know how to pick them. I predicted they'd be Stars and I'm not the only one whom they have "blown away."
Ingrid
October 2003
FINALLY: My first public full-length performance in years (I don't care to specify how many). My partner in crime: Joe Petraitis. It will be on Saturday, Nov. 8 at 2 pm. And it's free, in the Navesink House, 40 Riverside Avenue (Route 35) in Red Bank, NJ.
Many friends have been wondering what I've been up to since I've semi-retired from my "day" job which, most of the time, was actually a night job (my 17th anniversary at that "temp job" will be on November 3).
I've mostly been taking care of things I was forced to neglect for years: Like doing repairs on my house and painting. And my files – 7 years of photography begging to be organized, and 7 years' worth of paper – boxes and boxes of paper – paper everywhere, really. I decided to change my life by reading them into a scanner – computerizing them – so that the physical paper is gone from my life. I've thrown it out by the box-full and felt great about it.
And I've been working on the full-length stage show mentioned above. Joe Petraitis is a fellow songwriter from the New Jersey Song Circle. I fell in love with Joe's song "Where is the Soul?" and started singing harmonies before he even had a chance to complete it. That developed into a jam session or two, and next we performed at the Birthday Party of the Folk Project's Minstrel Coffee House in Morristown, joined by Andy Koenig on bass, Jeff Rantzer on trombone and Bill Meyer on keyboards.
Performing with others has been wonderful for me. Even though my guitar play has improved some, my skills are miles behind those of many of the performers in our thriving local Folk Music scene. I am ashamed to say that I've been getting air play for songs that I can't play (yet!), like my Reggae song "Living in Paradise." I also can't play "Check the Box!" - that song has been recorded three times by singers other than myself. Well, one of these days I may surprise everyone . . .
I was very excited this morning when I listened to the prototype of Vittoria Conn's CD "Turn this Boat Around.." I vividly recall the day, two or three years ago, when Vittoria asked to come with me to Michael La Gennusa's studio in Manhattan. I mentioned that I was working on a country song and that some of the Nashville people had specifically informed me that my voice was "too legit" to be on a country demo. Vittoria offered to help, but I didn't take that too seriously. And then she blew me away – she nailed it on first try! Her voice usually reminds me of Karen Carpenter's, but she's lived in Kentucky long enough to capture the Nashville sound for me.
Vittoria and Michael have completed 10 songs by now, all written by her. One of those songs gives me the chills each time I hear it: It's a lullaby for her little boy who was very ill at the time.
My own CD LOVE MATTERS has been getting great reviews, and I will post some in my Review section.
I've also sold many hand-bound copies of my book LIVING WITH HITLER'S LEGACY. I haven't had it printed yet because I've lost my original childhood photographs when a suitcase was stolen from me in Holland when I was 15. I've since re-photographed pictures of friends and relatives, but the quality isn't all that great and it's hard to figure out now who has the originals.
My next Weblog should have information about my new CD. Many of the songs are done, and Brian took the perfect cover picture. I'm having a hard time now deciding which of my "babies" cannot be included. Besides, I keep writing new ones. Please tune in for the next update.
P.S.: Brian's band REPUBLIC is also in the recording studio. I can't wait to hear their new songs.
Ingrid
July 2003

I am overwhelmed by a performance I heard last night at the Stone Pony: Brian Saint and his new band REPUBLIC. The place was packed. I overheard the sound guys saying, "These kids are great."
Their sound reminds me of U2 or Creed - powerful and hypnotic - and their lyrics are profound and philosophical. I just can't believe this is my friend Brian - the same Brian Saint who photographed my album cover as a favor to me. Guess I will be looking for another photographer when they get too big.
I also heard the Canadian folk band Tanglefoot again, this time at the Watchung Arts Center and without Joe Grant, the only original group member. Joe has recently retired, but will still be involved in their songwriting. I love Joe's songs and have recorded "Selkirk Settler's Lullaby" for my next album, a beautiful song with an interesting story. Joe's fiddle performances have been taken over by Terry Snider, who remains within the wonderful original spirit of the band. The vocals are as full as ever, probably because Brian Weirmier, the new keyboardist, is also a singer. Tanglefoot's many fans will be glad they're still the band we've come to love over the years. For those who don't like bands with fiddles: I am usually not particularly fond of them either, but I love Tanglefoot and so do all people of various musical backgrounds whom I have taken to their performances.
I also thoroughly enjoyed one of Spook Handy's Peace Concerts at the sold-out Mine Street Coffee House in New Brunswick. For many years, I've loved Spook's songs, his CDs, his outgoing and encouraging personality and his great sense of humor, mostly at songwriters' meetings. This performance pulled it all together for me.
I've been working hard on putting together a stage performance. Have a terrible time remembering all my own lyrics and chords. On July 25, I will be doing two songs at the Minstrel Coffeehouse birthday party in Morristown, NJ (www.folkproject.org), and I've finished recording the first nine songs for my next CD in Michael LaGennusa's studio.
A nice surprise came yesterday by chance: I found a beautiful review of my CD LOVE MATTERS in a magazine called Rambles (www.rambles.net), done by a man named Nicky Rossiter last May. I will quote from it under "Reviews."
For those who were so kind to ask: My Mom has recovered from her knee surgery and will resume her New Jersey visits in September.
Ingrid
March 2003

Last week, I discovered on the Internet that Ginni Clemmens died in a car accident in her recently chosen home State of Hawaii.
She was a wonderful singer/songwriter whom I first met in the '70s at the Old Town School of Folk Music in Chicago. She became my guitar teacher, and I sang background on one of her recordings.
She asked me to accompany her on several of her trips to local schools, where she turned the youngsters on to folk music and the Blues. It was my "job" to tape them when they shared jump-rope chants with us. She had an incredible rapport with those children, especially the "tough" ones. Maybe I am wrong, but it seemed to me that she did more children's songs for grownups than for children, and more grownup songs for the kids, and everyone loved it that way.
I've been meaning to write to her during the holidays, but decided to wait until I'd find those chants and surprise her with a copy of that tape. Now I wish I hadn't waited.
Ingrid
February 2003

On February 15, I joined the Peaceweavers, hoping to hear Bishop Tutu and Harry Belafonte near the U.N. (at 49th and 1st in New York City - 5 blocks from where I used to live).

We met at 54th and Lexington. To our surprise, the police ordered us to walk towards 60th Street - away from our goal. They told us we could get to 1st Avenue from there.

As it turned out, they herded thousands into 60th Street and closed it off on both ends. I guess that's how they arrived at the low count of 250,000 demonstrators. There were millions, but few made it to 49th and 1st.

I broke through the police barrier at 60th Street, pretending to be a press photographer. But there were barriers at every corner. At 54th and 2nd, the police was on horseback, and it felt menacing.

I got as far as 52nd and 2nd, where the police was in riot gear. I took many photographs. [Comment: I had to leave at 2 pm and am glad to hear that the Peaceweavers eventually were able to march down 1st Avenue.]

Since then, I have translated "War No More" and "Living in Paradise" into German - recorded them that way and sent them to Peace groups over there.
Ingrid
January 2003

During this month, I spent two weeks in Germany, where my World Trade Center photographs are being exhibited in the Town Hall of Weyhe, near Bremen.

Ingrid Heldt shows a view of the World Trade Center to visitors.

I translated two of the articles printed by the local press (even though the information isn't 100% accurate).

I am attempting to get a better copy of the press photograph.

While over there, I also met members of the local Peace Watch.

And I visited my mother who was preparing for a difficult knee operation. It went well - when I last spoke to her, she had just returned from a 10-block walk on crutches.
These are a few of the translated articles:

Stuhr-Weyher Zeitung - Friday 1/20/2003:
The Twin Towers - 400 Times - Ingrid Heldt from New York Shows Unusual Perspectives of the World Trade Center Leeste -

"My first photograph [of the World Trade Center] was taken with a $60 camera, and I wanted to improve on it," Ingrid Heldt explained about how she began her exceptional work. She is showing an exhibit about the World Trade Center in the City Hall of [Weyhe-] Leeste, which will remain there until the end of February.
When she began documenting the famous Twin Towers, she had no idea how valuable her work would become in the future. The 34-year-old knows Manhattan like her coat pocket. She lived there and worked 1-1/2 blocks from the World Trade Center for years. She had a wonderful view of the towers from her office on the 43rd floor and fell in love with them.

She worked the night shift and passed the giant buildings every morning. It is thus not surprising that she began taking pictures from many angles. She always carried her camera. In the course of several years, she took almost 400 photographs.
Among her photographs are some that show the towers in their entire length.

The first camera offered only few artistic possibilities, and so she bought a better one, hoping to duplicate some of her [negative] photographs [as slides]. But today she says, "I never succeeded. Some of my later photographs show new angles, but I never improved on the old ones." Much the opposite: In 1990, she photographed the towers on two different days. The buildings were so bright that they were completely blanked out and appear as "ghost towers." "At the time, I was upset about the ruined film and put those images away with my 'Rejects.' When I rediscovered them after September 11, they appeared strangely prophetic," the artist states.

Much of her work had a shadow existence in those "Reject" files until after September 11, when she put the images into a fire safe because they have become incredibly valuable. To benefit the victims and to help herself deal with the tragedy, the artist made a video of her photographs, which lists the names of the 3,000 victims. When she listed the names in the form of two columns, she didn't realize that even that arrangement reminds of the two towers.

After September 11 she returned to Ground Zero only once. She found it difficult to see the empty spot. The exhibit in Weyhe [-Leeste] shows the towers from many perspectives. One includes the Brooklyn Bridge, another was taken from Chinatown and yet another from the windows [of one of the towers, showing a view of other tower]. During her walks in [Liberty State Park, NJ], Ms. Heldt took photographs that show the towers during sunrise - you can hardly imagine that they are surrounded by the noisy life of a City of millions.
Weser-Kurier (Bremen, Germany) -Monday, 1/19/2003:
An unusual exhibit began yesterday in the City Hall of Weyhe. The photographer, Ingrid Heldt, shows images of the World Trade Center. The artist was born in Lower Saxony and has been living in the U.S. since the '70s - 10 years in New York City. She is also a songwriter and has released several CDs. Her collection of World Trade Center images comprises almost 400 photographs. A portion was shown in New York's SOHO district as part of the Memorial Services on September 11, 2002. In the weeks after September 11, Ingrid Heldt wrote two songs about the events and sold them as a benefit for the victims. She also produced a video about the subject. The selection of photographs will be exhibited in Weyhe during the coming four weeks.
Ingrid
December 2002

It is located on Crescent Avenue in Wyckoff, NJ 07481 - 201-891-5571. Click here for directions
It also appears that the next Exhibit will be in Weyhe, near Bremen, Germany, where the municipality requested to display them in their historical museum. [Comment: they were actually shown in Weyhe's City Hall.]
Ingrid
November 2002
The Exhibit of my photographs in Franklin Lakes will continue until the end of November.
The directions are below (see "October 2002").
My songs and photography are also still on the www.Ridgewoodcameraclub.org website under "WTC Tribute".
A few weeks ago, as we were updating this Website, I mentioned to my Webmaster Carrie that I felt it's a shame to remove the older News items. I've heard from so many people since September 11, some telling me that my Website and songs put a face on the events for them.
In May, I read a Newsweek article about Weblogs and realized that my "News" page could be written like that. So I've dug through the old info and attempted to resurrect some of it for people who are new to this site. I will place the newer "News" items at the beginning, so I don't bore those who have visited before.
The next Exhibit will be at "The Gallery" of The Presbyterian Church at Franklin Lakes, NJ (Exit 161 West off the Parkway - Click here for map and directions).
Ingrid
October 2002
The exhibit of my photographs (of the perfect World Trade Center buildings) in Soho, NYC, on and after September 11 was very well received, particularly the "Ghost" images I took on two different days wherein the buildings appear to be blanked out. I was angry about the "ruined" film at the time, but with hindsight the images appear prophetic.
The press coverage was great, and many asked for showings in New Jersey.
The Reception will be Saturday, November 9, from 11 a.m. until 2 p.m. I'd love to see you there.
The Ridgewood Camera Club is also exhibiting my photographs and songs on their Website www.Ridgewoodcameraclub.org .
Ingrid
September 2002
As part of the September 11 Memorial Event at the Open Center in New York City (in Soho - see address below) a collection of my photographs of the perfect World Trade Center buildings (I took over 300) will be shown, together with my Video POETRY IN STONE which contains an almost complete list of the Missing.
I will be available at the Open Center to answer questions about those images.
Ingrid
The Open Center is at 83 Spring Street (between Broadway and Lafayette). Opening times on September 11 will be 8 a.m. until 8 p.m.
August 2002
My new CD LOVE MATTERS is finally (!) available (please see "Contact" for ordering information). Again, Michael LaGennusa did all the instrumentation and studio work. I wrote or co-wrote all of the songs, and it is a collection of the old and new. For the stories behind some of the songs, please look under "My Work."
************************************************************************
My CD TRIBUTE TO THE WORLD TRADE CENTER and the Video POETRY IN STONE are still available (please see "Contact" for ordering information). I am giving all of my profits to Covenant House headed by Sister Mary Rose McGeady who looks like an angel to me. Nuns like her took me in when I ran away from home as a teenager, and New York charities like Covenant House have been struggling in the wake of September 11.
************************************************************************
Ingrid
July 2002
My new CD LOVE MATTERS is at the duplicator's and should be available in two weeks. You won't believe how many things can hold up the release of an album.
I'll just tell you the last one: When copying the songs for the duplicator, I discovered two microphone pops, unfortunately in the second line of the first song.
"No problem," I thought and called Michael LaGennusa at the studio, who has been incredibly patient will all my nitpicky changes. Turns out he broke his foot and it took several weeks before he could hobble back to the studio. He is back now, thank heavens. I am lost without him (musically).
Things have been hard for Michael and his wife Jane, formerly a financial manager for Fidelity. She used to be one of the few people I knew who always talked about how much she loved her job. On September 11, she barely made it out of the World Trade Center alive. She is still out of work. Is anyone out there hiring? Please talk to Jane. She can be reached via MJL Sound 212-268-7557.
My Multimedia section has a clip of Vittoria Conn's (the song is mine). She's lent her incredible voice to many of my demo recordings (others were done by Jean Scully, but she lives too far away from the studio to do more at this time). Nashville and many others think my voice is "too legit" (it came that way - it's not the result of voice training). Vittoria is now working on her own recording project, and I am looking forward to hearing more of her clips. The ones I've heard so far are wonderful. Vittoria may be available to do studio work. As opposed to me, she is a very quick study. She'd sing a song half an hour after first hearing it - correctly with all the emotions I hoped could be found in it. Please contact me if you wish to get in touch with her.
Also - when making the album and updating my Website, I discovered I hadn't had any pictures taken in years and was glad when a former tenant offered to help me. I didn't know that he is a trained photographer and a fellow singer/songwriter with a band. He blew me away, not only with his photographs (the camera hates me), but also when I finally heard him perform. Take note of his name: Brian Saint. I bolded it on my album cover because I am convinced he will be a Star. I want to brag some day that I knew him when . . . I will attempt to get a recording of his for my Website.
Ingrid
December 2001
Mutti (my Mom, who is visiting me) and I went one last time to see what is left of the World Trade Center: the Tuning Fork windows that I loved so much and photographed when they were whole. Soon they will be removed. We weren't planning to go - Mutti had come with me to Michael's studio, and we just went driving around. It was an eerie scene: Floodlights illuminated the area, and people stood and stared into the cross streets from where you could see the ghostly white skeletons of those windows (I believe they went up to the fourth floor). The pictures I took came out well, even though it was dark and I didn't have my "good" camera with me. I was glad to see those windows one more time.

I decided to walk around and got to see the grey concrete dust I had heard about on the news - actually it was beige. It was about four inches high in the doorway of a closed sneaker store. The dust covered the carpet inside and tapered off towards the rear of the store. Yet the sneakers in the window display seemed untouched, ready to be bought.

In one of the side streets, all the underground wires and pipes were exposed, ready for repair.

In the week after September 11, we had been noticing abandoned cars in the commuter lot in Lyndcroft, NJ. Most were removed quickly, but a few were parked in the spaces that aren't supposed to be used by the commuters. Some of those weren't removed for a while.

I also went to the 14th Street vigils to shoot photographs for the video. It turned into a moving experience. I was particularly impressed by the Tibetan community who had put up a shrine to pray for peace.
Ingrid
October 2001
September 11 has changed our lives.
I used to live on 45th Street, and many of my friends live or work in Manhattan. When I heard the news, I tried to call all day, but the lines were dead. When I finally was able to contact a friend in Maplewood, he said he had received an e-mail from Virginia who worked for Cantor Fitzgerald: She had called in late that day to go to vote and then to pick up a prescription. Ss she left the Duane Reade drugstore, she saw her office go up in flames above her.

Michael LaGennusa, the owner of the NYC studio where I do my recording, kept saying, "I can't believe I won't see Harry again" when we recorded Poetry in Stone. Only a few weeks earlier, he had told me about his trip to Vegas with Jane, his wife, and their friend Harry Ramos whose great sense of humor had made the trip so enjoyable for everyone. [Comment: I've since seen Harry mentioned in many newspapers as "last seen on the 42nd floor helping someone." Harry wasn't a fire fighter or policeman on duty. Yes, there are heroes and angels right among us.]

On September 11, Michael got a call from Jane, "I have to leave my office." And then the lines went dead. It took three hours until she arrived home, covered with ashes. Many of their friends didn't make it. Harry was among them.

On September 12, I talked to Vittoria Conn, the wonderful singer who has recorded many of my songs and demos. She was in tears. "My son and I moved here from Kentucky. Those buildings symbolized to us our new life here. We went there all the time to see them."

I truly loved the buildings too. They were like friends welcoming me to the real world after working the night shift nearby. I took dozens of pictures because they were so very beautiful. [Comment: I counted the photographs and was surprised to find almost 400.] I now used some of them in my video POETRY IN STONE, which shows only the perfect buildings.
Ingrid
all rights reserved 2017© IngridMusic.com