Welcome to Ingrid's Bio page
Ingrid began performing long before she could read. Her father, a sound engineer, took her along to sporting, political and social events, where she'd always end up in front of the mike, singing.

She wrote her first song, an early version of Chrome, Crystal and Glass, in a songwriting workshop with Bob Gibson (1931-1996) whose songs have been covered by Simon & Garfunkel, Judy Collins and The Byrds and whose protégés included Joan Baez and Shel Silverstein.

She has written and translated songs for other singers and commercials for companies such as Volkswagen.

Ingrid's voice has been described as "somewhere between Enya, Judy Collins and Joan Baez." It has a soothing, healing quality.
Ingrid has recorded several CDs of songs written or co-written by her. Her latest, BEAUTIFUL PLANET, HOPE ROAD and VISUALIZE PEACE !, are selections of folk songs. LOVE MATTERS consists mostly of songs written for other performers and TRIBUTE TO THE WORLD TRADE CENTER was a benefit CD. She also released POETRY IN STONE, one of its songs, as a benefit Video.
Ingrid's photographs have been exhibited in the U.S. and abroad.

She is also a writer of biographies who is currently working on a book about Germany after World War II, a photographic World War II biography and a CD of songs about Germany's history.
Written by Julia Masi (718-748-7848)
- click here for more information on Ingrid's work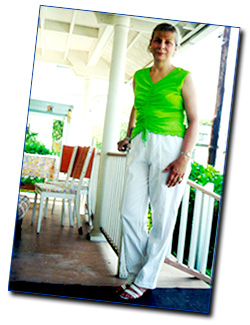 Photograph by Brian Saint